El Goodo - By Order Of The Moose (Strangetown Records)
Sparkling baroque pop from the Welsh psych outfit on their first new album in a decade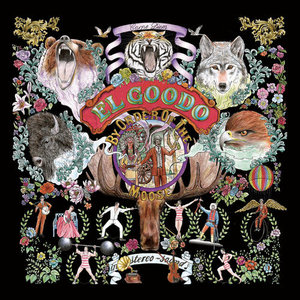 It took nearly ten years for these baroque-pop fantasists to make their latest album... but the results are so lovely it's been well worth the wait. The intriguingly titled
By Order of the Moose
sees Welsh psych-poppers
El Goodo
conjure up a fantastic selection of melodic, three - minute retro fantasias. Packed with wistful harmonies and beautiful melancholy, it sounds like the early Coral soundtracking the Saturday morning Westerns and kitchen-sink dramas of 50 years ago.
Released on Super Furry Animal Can Ciaran's Strangetown Records, ...
Moose
merges the romanticism and gentle surrealism of post-SFAs Welsh indie-pop with the 60s obsession and escapism of Liverpudlian acts such as Shack.
The protagonist of most of these songs may be languishing in his room, day-dreaming and lamenting the girl who got away. But his imagination and a stubborn shard of optimism prevent things getting too dark. After all, wallowing in melancholy can be pretty enjoyable....
Sonically, the tracks evoke a range of jukebox-friendly styles, including curled-lip 50s rock'n'roll rebellion (Sail the Ocean), swooning orchestral 60s pop (the Beach Boys-esque It Makes Me Wonder) and Cavern-era Fabs-meets -frilly shifted baroque pop (It's All Over).
The record is warmly produced, tightly arranged, affectingly sung by Jason Jones and never more than a minute away from a killer chorus. Live, this bunch have been known to rock out like bastards on occasion. But here, beauty and ear-worm melodies are the aim of the game.
It is a deeply introspective world: the likes of September and Sail the Ocean prefer to trip out and daydream rather than face the outside world. Self-indulgent and retro as hell, and seemingly unconcerned with the wider world, this is not a record for everyone. But 60s-heads, pot enthusiasts and bedroom romantics may have found a new favourite band.