Echo Ladies: Pink Noise (Sonic Cathedral)
Highly promising debut LP offering from Swedish shoegazers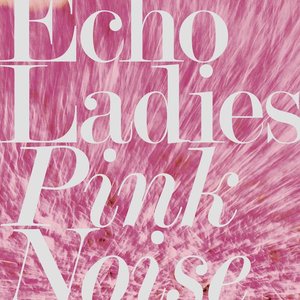 Deriving its title from a setting found on some models of old analogue synths, Malmö based dream pop/shoegazers
Echo Ladies
unveil
Pink Noise
following an acclaimed eponymous debut EP issued in March and a heap of positive press back home.
Drawing inspiration from Slowdive, the Mary Chain and the Cocteau Twins, the trio are reminiscent at times of a fuzzier Alvvays or
Lesser Matters
-era Radio Dept, their combination of guitar fuzz, synth melodies, programmed beats and a generous helping of reverb skillfully counterbalences gritty post punk with straight up pop melodies, courtesy of Matilda Bogren's vocals.
Displaying enough brevity to sate even the most impatient listeners, with eight tracks gliding past in 27 minutes,
Pink Noise
is a solid entrée to the group. The tag of shoegaze/dreamgaze seems inaccurate at the top of the album however as skin-flaying instrumental Intro sounds nearer to deafening NYC guitar slingers A Place to Bury Strangers backed by Big Black's Roland drum machine at set to stun levels.
The flipside to this, Echo Ladies' less abrasive side is well represented by Darklands (no, not that one) and Overrated which booms along like an updated spin on
Disintegration
-era The Cure (think Pictures of You).
Almost Happy sounds like a cut from a mid-1980s dystopian sci-fi flick, while Hard Ending is melodious enough to evoke memories of John Hughes' 1980s teen romances, cf. the OST to
Pretty In Pink
which featured New Order and Echo & The Bunnymen.
Pink Noise reaches its summit on the last track Waiting For A Sign, where the off-kilter time signature (3/4, 4/4 with accents?) allows the vocals extra room to breathe, as the band latch on to a full-blown chorus as the repeated song title close the set. A strong initial offering of an LP,
Pink Noise
sounds like a genuine harbinger of bigger things to come.