Dutch Uncles – Big Balloon (Memphis Industries)
Ascendant Mancunian art-pop quartet make a sleek return on album number five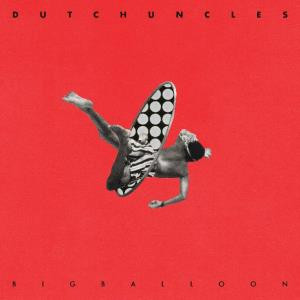 A band who, slightly surprisingly have never truly gone overground despite a solid cult following and warm critical notices, Mancunian collective
Dutch Uncles
have become a reliable source of sculpted art pop over the past near-decade.
The group's familiar influences, principally the three B's: Bush, Bowie, Byrne, along with a smidgen of XTC and off-kilter prog rock time signatures combine on their fifth album
Big Balloon
to deliver a set of sleek alt. pop thrills, led by singer Duncan Wallis' hallmark androgynous vocals.
Pete Broadhead's spiky guitar figures bring greater drama to the title track and the jagged Combo Box, the latter highly redolent of
Scary Monsters
era Bowie, with Robert Fripp-style guitar lines strafing throughout it.
The jerky stop-start Same Plane Dream, is a misfire while Achameleon which evokes David Byrne's
string swept
redux of Naïve Melody (This Must Be the Place), featuring Wallis backed by piano, string quartet and little else is beautifully arranged but leaves little lasting impression. Similarly, Overton works best as a production showcase instead of a fully integrated song.
One minor gripe with
Big Balloon
is that the airtight, glossy surfaces of the production can occasionally mean that everything here ends up sounding a bit too well,
clean
. Baskin', which thrums along on a belligerent bassline and cross-cutting guitar figures would benefit from being presented in a rawer state and allowed to break loose more akin to contemporaries Foals.
Hiccup replete with bass embellishments reminiscent of Eberhard Weber (four stringer for
The Dreaming
and
Hounds of Love
) ushers in the set's coup de grace, a four song stretch on what used to be called Side 2. A sequence that delivers the LPs strongest moments, Streetlight led by Robin Richards' brilliantly flexible bassline supports one of Wallis' most intriguing lyrics, '
To be square in love's hateless mire/Is the pain of glee so unkind?
'
The best thing here,
Oh Yeah
is wonderful, effervescent Eighties pop that combines the synth pulse of
1999
era Prince (cf: album track Delirious) with the sleek machine-tooled pop of Scritti Politti while Sink led by an aerated synth loop and strings, is cut from similarly plush fabric.
Continuing their gradual takeover by stealth trajectory,
Big Balloon
aptly enough sees Dutch Uncles make a graceful ascent to greater heights.