Ducktails - Ducktails III: Arcade Dynamics (Woodsist)
A bit of a pop gem from Real Estate's guitarist.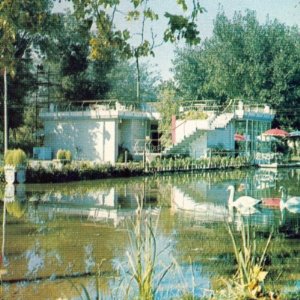 The latest album from Matt Mondanile – guitarist in Real Estate and solo operator as Ducktails – follows a long line of releases from this prolific lo-fi maestro. Unlike some of his earlier outings,
Arcade Dynamics
travels closer to the summery guitar-pop of Real Estate, effectively bridging the gap between the two bands. It results in an album which is more pop-orientated than some might have expected, but it's a sunlit delight.
If Real Estate often evoke beachside images, Mondanile's work as Ducktails is more fluid, rangy and slow-building. Languid jams put down on a four-track recorder, draped with distortion and whispered vocals; the 10-minute slumber of 'Porch Projector' follows a winding path through ringing guitar melody and found sounds. There's a hint of nostalgia in these faded tones, like childhood memories of flying kites on windswept spring afternoons.
The arpeggiated guitar of 'Sprinter' is teamed with crumpled drum machine rhythms for a hazy psych-pop gem, and a perfect partner to the sun-kissed reverie of 'Hamilton Road', which makes a virtue of REM-style cardboard box drums. 'The Razor's Edge', with its warped synths, echo-laden guitar and clomping beats is – along with 'Arcade Shift' - perhaps the closest Mondanile gets to the dishevelled tropical electronica of
Landscapes
or other previous Ducktails releases – there's a real progression here towards conventional songcraft, like on the brief but effervescent 'Little Window'.
It shouldn't be surprising that some of these songs bear the hallmarks of Mondanile's other band – the gorgeous 'Art Vandelay' (bonus points for spotting the Seinfeld reference) has long been a staple of Real Estate live shows and 'Hamilton Road' could easily have been written with them in mind. Yet he still manages to stamp his own identity on these twelve tracks, especially the standout 'Killin' the Vibe' – another track which was premiered last summer. A bonus version featuring Panda Bear lending typically sweet harmonies feels a little extraneous, given that the twanging, reverb-drenched guitar and pulsing rhythms work perfectly well when underscored only by Mondanile's own voice, which has a naïve charm and resonance that makes it oddly comforting.
A breezy, melancholy pop triumph.