Drop Electric – Waking Up To The Fire (Lefse)
Trippy melancholic headphonesex from the inside of the Hadron Collider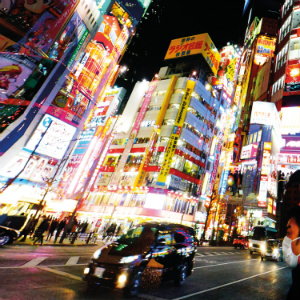 In
Waking Up to the Fire
, Washington, DC's
Drop Electric
has fused echoed synths with the haunting melancholic vocals of
Kristina Reznikov
- and, much like
iamamiwhoami
,
M83
,
London Grammar
and others, has created another electronic album that deserves a listen with headphones.
The sound on Drop Electric's 2010 debut
Finding Color in the Ashes
has progressed by pushing back the drums, replacing much of the guitar work with synths and cutting out some of the excess prog. The strong cinematic atmosphere still remains though, which with their recent signing to Pusher Music who license music to movie trailers, is sort of expected.
The result is a nostalgic, post-apocalyptic and reflective vibe. So, it's unsurprising that Drop Electric's website describes Reznikov's voice and lyrics as conveying "a sense of desperation in an increasingly disconnected world." Reznikov herself considers her vocal contributions as coming from "a dark place."
In terms of sound setup or scale, it's not breaking new ground, but Drop Electric knows how to work a melody, produce a well-crafted song, turn your diaphragm into an excitable mush and have you clawing for more in the style of a whiny baby wanting attention.
The first few songs of the album fire out electronic beats and popping keyboard, especially in title track 'Waking Up to the Fire.' Third track 'Blue Dream' gives similar beats and pops but with a smoothly bobbing chorus hook of, "pulling out your hair no, pulling out your hair no..." for which pulling out of your head is impossible (see what I did there?). In both of these, the waves and echoes of Reznikov's voice not only polishes the song off, but delivers oodles of fear and end-of-the-world nostalgia, even if it's not always easy to make out her lyrics.
Track five, 'Higgs Boson,' likens the desperation of wanting someone to searching for the rare "God particle." It's a nice idea. The song itself produces a sonic level of melody that is akin to an atom pinging towards a head-on collision. A creeping keyboard with layered, haunting vocals at its crescendo show it to be a track that has had heavier production than others. And just like the work of CERN (The European Organisation for Nuclear Research), it's always grasping at something potentially explosive as it continues forward.
Oddly enough, this reviewer happens to know someone who works for CERN. He listened to the song. He liked it. And if he takes it to the lab, that'll be barnstorming. CERN research assistant approved! A full circle completed.
Moving on...it's the song writing and catchy hooks of 'Lucille,' 'Blue Dream' and 'Waking Up To The Fire' that stand out on this album. The accompanying high-quality video work (check that out on YouTube) gives songs further edge to their meaning, both live and recorded.
In Waking Up To The Fire, Drop Electric has created an album that many will be having private headphone moments with. You might as well cast your shuffle button into a black hole for this one; at least one listen through headphones of the entire album in order brings added appreciation. The record sails smoothly through 11 tracks, with the occasional acceleration for stand-out numbers and excursions to CERN to see what the research assistants are listening to. And if they're listening to this, they're listening to something good.