Dignan Porch – crème (Edils Records)
London lo-fi pop outfit return with ltd. ed cassette release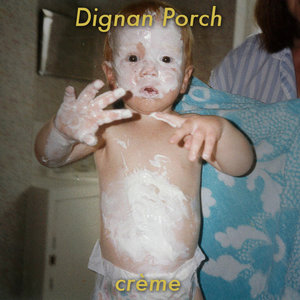 London based quintet
Dignan Porch
were recipients of sizeable praise for their third LP
Observatory
last year, a fizzing concoction of C86 guitar lines and lo-fi pop songcraft.
Signed to storied US label Captured Tracks and Brightonian set up Faux Discs, the group's new set is released through cult Liverpool indie Edils Recordings, an ultra limited edition cassette wrapped in a cover of drummer Luke Walsh who as a nipper liked to smother himself in cream.
Somewhere between an EP and a full-blown LP,
crème
comprises of seven tracks pulled together to accompany the band's current European tour.
Opening salvo 'Split Boxes' powered by swirling organ keys and repeated guitar figure commences the tape in formidable style, showcasing the band's bedroom indie pop at its most visceral, sounding pleasantly akin to (very) early New Order.
'Alas', a cover of fellow South Londoner DIY musician Slushy Guts held in place by a thudding Mary Chain drumbeat and led by a simple guitar motif showcases the group's downbeat side, while 'Yards Again' weaving its way a treble-ly C86 riff and phased rhythm guitar vies with 'Spilt Boxes' as the strongest cut here.
While the band's influences seep through slightly too strongly at times, 'Heavy on the 5' coasts along on a riff that immediately calls Dinosaur Jr's totemic 'Feel the Pain' to mind, as a stopgap between albums, while it may be named after a dessert topping
créme
satiates the appetite.