Die Welttraumforscher: Die Ruckkehr der echten Menschheit: 1981-90 (Bureau B)
Swiss auteur's quirky electronica conjures up a fantastical world of its own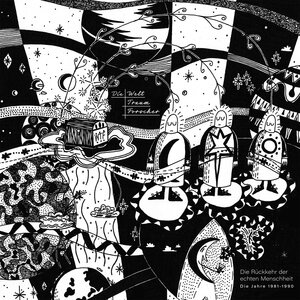 Every artist, if they are singular enough, creates their own world. But few have gone to as much trouble as Swiss electronic musician Christian Pfluger aka
Die Welttraumforscher
. In what is surely one of the most committed artistic projects ever, he conjured up a race of creatures (the Forscher) and, over several decades, mapped out their surreal, Dadaist universe in a multimedia panoply of tunes, films, stories and extremely charming illustrations.
The label Bureau B has paid tribute to the musical end of this singular project with two compilations covering three decades in total. The first record, D
ie Rückkehr der echten Menschheit 1981-90
, sees Pfluger establish his Moomins-in-Space aesthetic. These often sub-three minute pieces display no hint of proggy grandiosity, just lo-fi playfulness and a strong melodic sense.
Apart from one English-language piece (Seashells And Flowers), the rest of the tunes that feature vocals are in German, so God knows what they're about. Around half are entirely instrumental, while Pfluger chips in with spoken word interjections and a cooing female Greek chorus occasionally provides a counterpoint. The aesthetic runs from weightless, interweaving melodic pieces to motorik numbers like the driving drum machine-led Liebe Lill. Heard together, the result is like pastoral Krautrock.
The spooky but welcoming Der Sternman is reminiscent of Caliban's words in
The Tempest
: '
Be not afeard. The isle is full of noises, Sounds and sweet airs that give delight and hurt not
'. Mann im Kuhlschrank swings in its peculiar way; Mitcommen, Wegsein's synths come at the listener in waves; while Kaffee, Kuchen und Kometen's stately chord progression, topped by a very pretty melody, is spaciously lovely, like mid-70s Eno.
Aller Tage Abend's synth flurries have a touch of late 60s electronic pioneer Terry Riley; Mondfolklore has a slight medieval feel with hints of Herzog collaborators Popol Vuh; and Judith is one of several tracks featuring simple electric guitar lines, one of the album's few nods to rock music. Overall, the record covers an impressive amount of sonic territory in its understated way, meshing avant-garde notions with a strong melodic sensibility. It's like pop music from an alternate dimension.
The second record,
Wir Arbeiten Furie D Nächte Welt
, covers the years 1991-2012. While sharing some of the same elements, it sounds slightly more polished and streamlined, and marginally more conventional.
The ambient prettiness of instrumental opener Wassergarten. Vergangenheit Und Zukunft is followed by the sweetly sung yet sweepingly anthemic Das Land Loon. A note of danger is introduced by Take me away, a rare excursion into English lyrics. It seems to depict a threat to the album's fantastical world ('
See how the trees are broken…
') but its gnarly guitar interjections are countered by a lovely quasi-orchestral final section.
Kluger konig kindermond is one of several tunes that seem to depict a clash between beauty and discordancy: is Pfluger's fantastical world under threat? Not everything works - Lass uns uberlegen is slightly oppressive and over-busy. But Dieses haus ist nur ein Traum is inexplicably groovy, while Schnee im zarten Jahr Husch-husch is just ace. Hypnotically catchy and oddly amusing, it's maybe the best meeting of the album's poppy and avant-garde elements.
Silberblaue, with its chunky, slightly housey rhythm is possibly the most conventional piece, before idiosyncratically titled closer 21. Januar 2021 signs off with talk of ''
Crazy days / inner space…
' Indeed.
These albums present a charming, and surprisingly accessible, world of whimsy and wonder. Who says electronic music has to be cold and humourless? Let's just hope the Forscher made it…
4/5
Die Welttraumforscher Links