Diamond Rugs - Diamond Rugs (Partisan)
Debut LP by Americana band ft. members of Black Lips and Deer Tick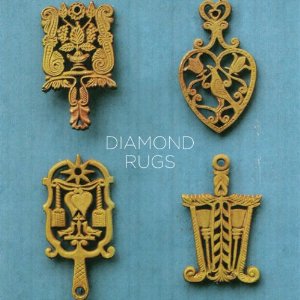 Music is soul food and you gotta keep varying the menu. Some days you want fancy Michelin-starred cuisine while other days only a big plate of fish and chips slathered in tommy K hits the spot. The debut album by Diamond Rugs is a damn tasty Friday night treat.
In its unassuming, downhome way, the band is a sort-of-supergroup - its members hail from a handful of rootsy, unpretentious bands (
Deer Tick
,
Black Lips, Dead Confederate, Six Finger Satellite
and Tex-Mex legends
Los Lobos
). Despite the pun-tastic name, this bunch sound like beer and fags, rather than anything more mind-scrambling, make up their drugs of choice.
With few tunes clocking in at over three minutes, the mode is 'quality bar band'. This is music for a big Friday night out after a week slaving away at a job that sucks: two-thirds rockabilly-infused rock 'n' roll to one-third hungover melancholy. The album's Nashville origins show in the occasional dab of weepy pedal steel and things weird out on occasion, but it's mainly attitude-heavy songs about girls and beer.
The album starts with a bang, 'Hightail' sounding like a lost radio classic with its time-honoured ingredients (basic backbeat,
Jonathan Richman
groove and a "my baby left me" lament). The anthemic 'Gimme a Beer' also boasts simple-but-funny lyrics, at which point fans of
The Hold Steady
will be in hog heaven.
The quality control then sags a bit, with soul-tinged 'foxy prostitute' anthem 'Call Girl Blues' perhaps taking the old-school vibe a bit far, but things pick up as the boys stretch out in some interesting directions. There's still nothing to frighten yer dad, but then this reviewer's dad likes
Tom Waits
and
Thelonius Monk
, and he's pretty damn cool...
'Country Mile' alternates between a gnarly, sludgy vibe and waltz-paced country, with a fuzzy outro that's as 'rock' as this album gets. It's the nearest thing the record has to an epic and it works a treat. It's pretty much all gravy from then on in. 'Totally Lonely' is a self-pitying cowboy ballad with a hint of self-mockery and the killer couplet, "All the stupid things I done / and the stupid things I do to cover it up..."
The super-catchy 'Blue Mountains' sees our singer lucky in love for once, with a laidback-but-funky
Tom Petty
feel. 'Motherland', an atmospheric loping groove with lonely harmonica, is almost Kurt Cobain-ish in its sardonic whining with hints of the sainted
Neil Young
in spaced-out mid-70s mode.
By the closing trio of songs, our protagonist is truly wasted. The horn-assisted 'Tell Me Why' is yet another "you left me, I'm gonna get drunk" ditty. 'Hungover and Horny' details the problems of boasting an enormous erection, but feeling too ropy to get up and do anything about it, while 'Christmas in a Chinese Restaurant' is a melancholic, piano-assisted tale of hungover festive regret – if you're going to tell the kids Santa doesn't exist, don't expect the missus to like it!
And on that suitably scuzzy note, it ends. Diamond Rugs aren't going to give you jazz odysseys or dubstep apocalypses but, really, who wants them anyway? This lot do what loads of other dudes have done over the years, but they do it well, with balls, humour and a joie de vivre that's positively infectious. Plus, they deliver the tunes - shedloads of them.