Deerhoof – La Isla Bonita (Polyvinyl)
Alt rock vet's trimuphant 20th anniversary: the unpredictable energy of throwing a lit firework into a metal dustbin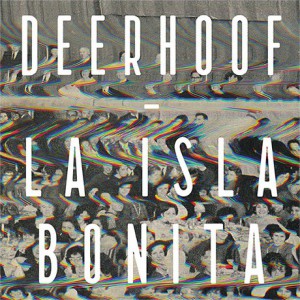 At times colourfully ridiculous and at times anti-establishment.
Deerhoof
's
La Isla Bonita
is a firecracker of an album which like many Deerhoof albums before it delivers unpredictable music.
The instruments are thrown around to create an angular, metallic and colourful album. It's the musical equivalent of throwing a lit firework into a metal dustbin to see if it screams out the top, sings off the metal, crunches a hole in the hot tin or explodes shrapnel into the surrounding areas.
But there are other angles too. Across the album descriptions of a crushing corporate world burning people out – "
We gonna want you twentyfourseven
" – and mockery of the American dream – are dropped in. The name of the album itself is a fairly obvious jab at blown paradise.
Deerhoof throws in 'Last Fad' with its low, off-key electronica poking fun at the high school hierachy. An American dream lyric is contrasted harshly with demented, neon rasps from off key electronica. This topic continues in the Ramones tribute, 'Exit Only'. The inclusion of the line "
You enter USA/Welcome to speech of freedom
" is repeated for clarity.
The finest and most violent of these off-beat, harsh and hot contrasts on
La Isla Bonita
is reserved for 'Tiny Bubbles.' Varying from musing blues, to jagged garage rock to cutting jazzisms to accusations of "
you sledgehammer
" to ethereal angular. The instruments are disjointed and separated. It's like knitting with wire wool.
For the Deerhoof fan, this album stays in the similar realms of where Deerhoof's last album
Breakup Song
left off. That's despite a conscious swing towards a crunchier, punkier vibe throughout ('Exit Only' is by no means a complete anomaly). And it will satisfy for fans of those bands Deerhoof has influenced, worked with or produced. Countless collaborations in any time off have rubbed off on all concerned.
Sure, there are moments when the album slows and fizzles, such as 'Paradise Girls' and possibly 'God 2' and 'Doom.' However, this is a jagged, eclectic, buzzing, unpredictable album. In its 20th year Deerhoof still has produced vibrant excellence to make
La Isla Bonita
one of the most creative, yet in total control, albums of 2014.