Death Vessel – Island Intervals (SubPop)
An album of stormy seas, tiny chilly islands and siren-like lure – on this occasion it seems accurate to judge the book by the cover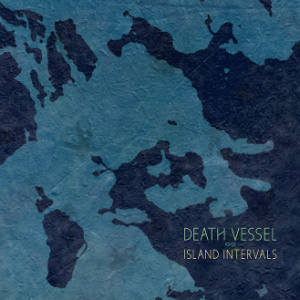 From the opening notes of
Joel Thibodeau
's siren-like voice on 'Ejecta',
Island Intervals
shows its ethereal qualities and similarities to fellow Icelandic bands
Sigur Rós
and
Múm
, both of whom played a part in the creation of this album.
Ringing bells, hollow shutting doors and exhaling bass notes all play a part in the background to the album to carry a chilly vibe throughout. At times there are rolling drums, which push the songs forward as the groaning bass chugs along. Mash it all together with Thibodeau's vocals and lyrics and it's easy to feel that the album was made in isolation looking out on stormy seas, a view populated with tiny islands.
As well as being the instigator in ushering Thibodeau to Reykjavík to record this album, it's no surprise that Sigur Rós'
Jónsi
makes an appearance on one track – 'Ilsa Drown' – giving more than just a reassuring slap on the back for Thibodeau; high praise indeed.
The lyrics and vibe of many songs are largely idyllic, especially on the hollow sounding 'We Agreed' chirping about a "home brew on wharf." Those idealisms spill over into a child-like innocence that is brought out well by the influence of Jónsi and Múm's
Samuli Kosminen
, who plays percussion on Island Intervals.
Surprisingly so, Jónsi's appearance on 'Ilsa Drown' is not the best cut song on the album, though it is possibly the most ambitious. The best work on here is when it's kept simple, intimate and sparsely arranged, like heartfelt album closer 'Loom' or rolling folk songs 'Mercury Tide' and 'Island Vapours'.
This is the third
Death Vessel
album, after 2008's
Nothing Is Precious Enough For Us
, and due to its rushing tidal drums, soft Sigur Rós bells and undercurrent of acoustics tempered by Thibodeau's vocals, what results is a very low-key Icelandic album.
Island Intervals is for warm clothes, winter nights and moments of pleasantly introspective isolation. Just look at the cover. It sums it up perfectly.