Dean Wareham: Emancipated Hearts (Sonic Cathedral)
Debut solo mini-album from former Galaxie 500 and Luna mainman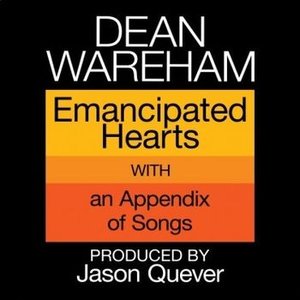 With a catalogue that extends to over a dozen albums over the past quartet of century, US alt. rock veteran
Dean Wareham
breaks cover to release the first set of songs under his own name. The former leader of groundbreaking 1980s indie pioneers Galaxie 500 and 1990s dream pop quartet Luna,
Emancipated Hearts
finds the New Yorker imbuing his trademark shoegazing approach with a new-found folk element.
Continuing Galaxie's penchant for slowly rolling tempos led by Wareham's fragile yet clear voice, the instrumentation swerves away from the post-rock template to incorporate more rustic instrumentation, a link made explicit by a closing cover of 'Air' by cult 1960s English folk duo The Incredible String Band. Effectively half of an old school long-player at six tracks and wrapped in a cover that resembles a 1970s paperback, the mini album was inspired by lifting a line or a phrase from an existing work: book, film, poem, newspaper then fashioning a song around it.
Produced by Jason Quever, (Cass McCombs/ Beach House), Wareham's spouse (and one half of side-project Dean and Britta) Britta Philips appears on bass alongside Gillian Rivers of MGMT and Cheval Sombre on violin.
Skipping along on a deceptively light country rock motif, 'Love Is Colder Than Death', its title cribbed from Fassbinder's 1969 New Wave movie, kicks off a strong opening stretch, the breeziness of the music throwing the bitterness of the lyrics into sharp relief. Followed by the title track, revolving around a cyclical guitar riff, low lying synth foundation and John Cale style violin scrapes, makes a foray midway through into a vocal melody purloined from Christmas standard 'Little Drummer Boy'.
Inspired by 2011 novel
Leaving The Atocha Station
, 'The Deadliest Day Since The Invasion Began' is centred around a newspaper headline reporting how that day's carnage in Iraq had been the bloodiest day of the conflict so far, a sequence of words that will be endlessly repeated as the year progresses. Utilising only a few lines of lyrics, a hallmark of Wareham's, the slowly circling waltz underpinned by thudding percussion and plangent violin is the highpoint of the collection.
The Bertolt Brecht referencing 'The Longest Bridges in the World' about the German playwright's move to LA resonated with the present songwriter who relocated to the City of Angels earlier this year, is a sliver of gorgeously hazy psych-pop, while 'The Ticking is the Bomb' revisits the war theme, edging into late 1970s Neil Young territory, a country infused lament with controlled feedback and elegiac piano.
Clearly in the midst of a prolific patch a full length album is due for release early next year, prior to that however
Emancipated Hearts
serves as a brief but brilliant entree to the debut LP proper.