Dead Mellotron - Glitter (Sonic Cathedral)
Baltimore-based shoegazers deliver superb third LP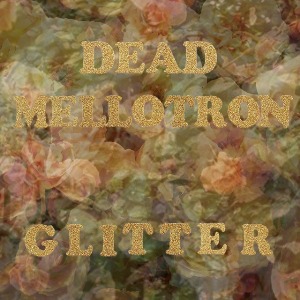 The third album by Baltimore-based shoegazers
Dead Mellotron
sees the three-piece delivering a decisive knock-out of an LP.
Originally the solo project of Louisiana native Josh Frazier, a move to the East Coast saw the 'Tron expand to a three piece and raise their profile considerably. In the producer's chair Frazier keeps a tight reign over proceedings, the seven slivers of sun-dappled sonic bliss clocking in at less than 30 minutes.
Whether there are strictly only seven tracks is open to conjecture however, as like
Loveless
, the LP blurs the boundaries of each cut, opting for a song-between-songs structure.
Opener 'Stranger' is possibly the most orthodox piece here, honing in on a wiry post-punk riff and uplifting keyboard ballast that segues into a floating ambient soundscape.
While principally instrumental, the submerged vocals are mixed just loud enough to prettily embellish the tunes, with 'Can't See', coming across like an escapee from Verve's
No Come Down
set with its bare-bones arrangement and (relatively) clear lyrics. 'Waiting to feel something/ They don't know/Like we know' making perfect sense for a band who once listed their primary influence as 'complete apathy'.
The vocal-less 'Bye', cruises into view on a MBV-style flute loop and submerged guitar crunch, morphing into a two-note keyboard riff and looped drums, then onto a near-classical piano piece, the spacious arrangement able to wring the maximum out of the sparse elements.
The reasonably straight-ahead 'Making Up' meanwhile is a highpoint, displaying traces of fellow East Coasters
The War on Drugs
in its motorik rhythm track, sensuous guitar overload and drifting vocal melody, which in a less cruel world would be a deserved hit single.
The low-lying bassline and star-gazing guitars of the glacial 'Oohahh' achieves lift-off with a blazing four-note riff, before drifting skywards, segueing into the epic finale 'Dying'.
Calling last orders, the track is possibly the highlight of the set, a mini-epic built on symphonic strings that steadily builds until a coruscating guitar din sends it through the roof before fading out in swooping, whammy bar bending MBV fashion.
If chief Valentine Kevin Shields deigns to release whatever it is he has been working on for the past two decades this year, he is strongly advised to investigate this album first, as the bar for any shoegazing LP has just been raised considerably higher.