David Lance Callahan: English Primitive I (Tiny Global Productions)
Wolfhounds frontman crafts spooky, challenging state of the nation epic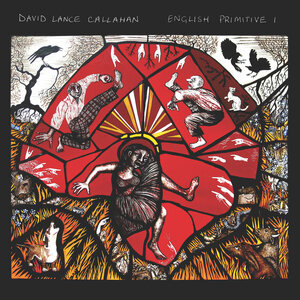 Those of you even older than this writer may remember indie guitar band The Wolfhounds (of
NME
's class of C86). Their former frontman
David Lance Callahan
went on to co-helm experimental 90s' indie-poppers Moonshake. His latest solo incarnation,
English Primitive I
(great title), sees him mix heartfelt troubadouring, Eastern drones, African desert blues, psychedelia and English folk in an intriguing and idiosyncratic manner.
It's an often dark, spooked-out concoction, difficult to pin down and seemingly determined to swerve every expectation. For starters, who bothers making decent album artwork nowadays? (If you're interested, the cover is a kind of fractal stained-glass window featuring distinctly medieval-looking people and animals, including some suitably ominous-looking crows - like Bruegel meets Gilbert and George).
It's impossible to know to what extent these songs are autobiographical, though the intensity of the vocals suggests they might be. If so, life hasn't been easy to Mr Callahan: the songs depict existence as a struggle, albeit one that can be redeemed by love and the odd fleeting moment of revelation.
Deceptively perky opener Born of the Welfare State is a folky, tuneful paean to the days when our government gave a shit about its citizens. It also showcases Callahan's nifty way with a couplet ("
I didn't die of scurvy or of rickets / I got the benefits of secondary pickets
"). Nice female backing vocals as well.
This and the (excellently titled) She's the King Of My Life are melodic and sonically welcoming - although the latter seems to admit a queasy powerlessness in the presence of the narrator's beloved ("
I know my weakness / But I'm making progress
"). It is one of a few, quiet, places on the album where the guitar sounds like Tender-era Blur...never a bad thing.
Elsewhere, things get distinctly spooky, creepy even. Goatman, the eight minutes-plus epic Foxboy (like a more freaked-out Within You Without You from
Sgt Pepper
, tablas and all) and, particularly, She Passes Through the Night, are ominous and dirgey things indeed. They have the eldritch power of old folk music: the world is full of forces we don't fully understand, and they wish us harm.
Goatman sees a childhood bogeyman comes to life, but sometimes the lyrics hit home in a less gothic manner. The album's second epic, One Rainy September is a dialogue between a returning soldier and his resentful daughter. He defends his absence and his difficulty expressing his emotions, she points out what this has done to her soul. Beautifully written, it has the undeniable ring of truth.
Closing track Always is another softly spoken heavy-hitter, seemingly a smug anthem from the point of view of the men who make the rules for the rest of us to follow (though not themselves, obviously). "
We are the sensible ones... We won, we always win, always...
"
It's a pretty defeatist, but suitably downbeat note to end the album on.
English Primitive I
is an impressive work, deep and troubling. To these ears it is somewhat heavy going in places, but if you like your truth unleavened, there is much to appreciate here.
3/5
David Lance Callahan Links