Danny Toeman - Life Blood Soul
Having lost his band The Lost Souls to other commitments, budding soul performer Danny Toeman's first solo outing is still under the iron fist of perfectionist control which he exercises on all of his creations. Opening with 'I Still Get That Feeling', Toeman doesn't hold back one bit. Production value is huge and the track instantly tells us that Toeman hasn't ignored any influences from his neo-soul contemporaries with bouncy beats and scratched records juxtaposed with sweaty New Orleans brass-chant reminiscence. Continuing strong, Danny moves on to yet another hit with 'Feel My Soul'. This track exercises his expert ear for dynamics (louds and quiets) that runs throughout the album and provides an unorthodox chorus that leads in and kicks off with a full orchestration before dropping to a bass-free plea.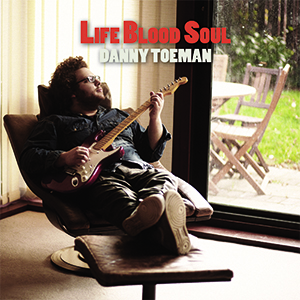 Upon further inspection, this album is a melting pot of influences. One of the most beautiful sections on the record is the much jazzier '
Completely
', the intro for which is so reminiscent of a
Stevie Wonder
progression it sinks the listener into a stoned bed before upping the tempo but retains the solo sax that adds the 'Cool' to this track.
Toeman's
guitar style means that funk rhythms also run amok on the record and his highly professional vocal range allows him to bring in west-coast pop influenced harmonies with gliding falsettos such as the intro to '
First Sign of Trouble
' backed up by a soft synth that coaxes the listener into one of the few truly hopeful tracks on the album.
Towards the end of the album, there is a definite change in tone. '
In Vain
' is the first track that holds doubt and anxiety on the surface and, shortly followed by '
Divine Inspiration
', it is clear that this is the personal side of the album. The latter track has very strong undertones of a struggle with faith. With collective pronouns including more than just
Danny
and a hot broad and a testifying crescendo for an outro, this is an artist reaching out and trying to gain that Higher Ground. Obviously, this casts a long shadow over the rest of the album.
With this retrospective view, whilst the album may seem to rely on clichés at times (specifically lyrically e.g. '
When The Lights Go Down
', '
Rhythm of Your Heart
'), each track has its own particular insecurities that climax with a resolution of slight desperation and dissipate the minor cheap qualities this album, at times, flirts with.
Interestingly,
Toeman
finishes the record with a beautiful a cappella track which recites the egotism that is at the surface level of the whole album (You guessed it – Scorpio is his sign). This track can perhaps be seen as a consolidation or a re-assurance that he is in control. In short, the shield has once again been raised after the flickers we were allowed to see behind it in previous tracks.
Overall, this overflows with the feeling of someone possessed by the spiritual power of Soul; someone who has become one with the music.
Life Blood Soul
isn't an album, it's a state of mind – excuse the stolen cheddar, I've left a note in the fridge. This is a state of mind that
Danny Toeman
lives and breathes, perhaps sometimes is trapped in, but has the power to light up and cool down his and others' lives