Dan Lipton: Water Rising (Self Released)
DC based Americana troubadour returns with excellent, escapist new album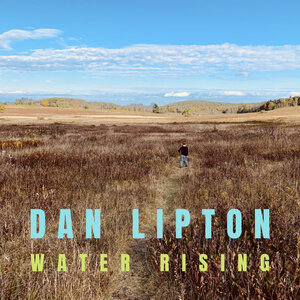 When we last heard a peep from Mr Lipton in
2016
, his latest offering was a "sun-dappled, grass between the toes, a little slice of long missing comfort" kind of jam. The sense that his boots were firmly in the dirt of those ol' country yarns was deep. Pervasive. And let us tell you—today is no different.
We have classic moving music, with the "ten months on the road" of the opener, bleeding into second track Turn The Volume Up. It extols the vice and virtues of living on four wheels with classic pacing and lilting riffs. However, the rising crescendo of instruments that greets us, brittle yet yielding, doffs a cap to Lipton's expanding musical tool-shed.
Recorded in the attic space of his home in DC, this record has a persuasive tremble of a work in progress. It's not that it doesn't feel whole, nay nay. It just feels that the foundations are being laid upon, growing toward the sky, meeting the tall trees of the surrounding vista.
Equal parts firm and freewheeling, tracks like Shotgun Wedding pose a cheeky glance at losses and gains that spin on a dime. The words "
Move my feet to show I'm still alive
" encapsulate so much. Coupled with "
I was young and my feet were gliding
", you can feel the pain and humour within.
Then we have tracks like Mix Tapes, which does something a little different. It feels like classic rock, yet with an art-rock pose of Gotye. A semblance of some new breath being pumped into the lungs of the old country tune. Ending with Four To The Floor gifts us a plucky number, emulating early classic rock'n'roll. Painting visions of gingham, flannel and leather, it feels good and easy. A pure comfort.
Overall, Litpon has produced a record that builds on the foundations of his warm spirit and exceptional talent. Is there a need to constantly smash boundaries and pervert the genre? No, not always. And this is proof, if proof were needed, that sometimes you just want to drink up some bourbon and imagine yourself in the mid-west. Open skies, warm welcomes, and the simple life. And Lipton has painted us a beautiful escape!
4/5