Curtis Harding: If Words Were Flowers (Anti Records)
Atlanta soul singer issues scintillating third album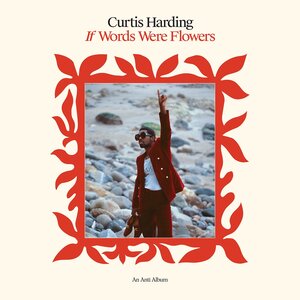 Atlanta, Georgia, has a lot going for it. One of black America's cultural powerhouses, it has given us OutKast, TLC, Lil Nas X, Donald Glover's TV series... and a singer who deserves to be considerably better-known than he is at present.
A songwriter and vocalist in love with the golden age of soul but with an individual take on it
Curtis Harding
has a history that takes in both Danger Mouse and Cee-Lo Green connections and a garage rock project (he calls his style "slop 'n' soul").
On
If Words Were Flowers
, the singer conjures up a sound as tactile and sumptuous as the red velvet suit accompanied by big shades and Gucci T-shirt he is rocking on the cover.
The album has a sound rooted in the early 70s era, when the likes of Curtis Mayfield crafted epic, soulful and melodically rich soundtracks. Killer grooves underpinned spacious but detailed musical landscapes in which horns, gospel-inspired backing vocals, sweeping strings, percussion and a whole lot more tickled your ears until resistance was pointless.
On It's A Wonder, in particular, Harding really stretches out and indulges himself. But on others (Hopeful, for instance) he goes for a more straight-ahead, anthemic, sixties inspired sound. And in case this is sounding too retro, the frequently sampled-sounding drums give the whole package a post-hip-hop, post-Roots nu-soul element.
Harding's strong, unaffected voice can be conversational, declarative or soar in falsetto mode. But the vibe remains positive, whether calling for people to cleave to the light until the "
Bullshit dies down
", or telling his beloved she's The One.
The expansive grooves give plenty of time for every lyric and musical nuance to sink in. Midtempo is the album's most common setting: bedroom ballads like Can't Hide It possess a funky undercarriage, while the uptempo numbers take their time.
Incorporating occasional proggy touches (spacey synths, bongos, flute, the occasional fuzz guitar), there is little self-indulgence here, this is pretty much fat-free, though it sounds very tasty indeed.
Many fine soul singers (the late
Sharon Jones
, for instance) made it big after years in undeserved obscurity. Harding deserves similar reverence. Make it happen, world...
4/5