Copywrite - God Save The King (Proper English Version) (Man Bites Dog)
In February, Ohio bred emcee Copywrite dropped his album God Save The King, the title being inspired by the Sex Pistols now infamous punk debut God Save The Queen. Following on from that release, which featured US emcees and producers comes God Save The King (Proper English Version) which sits somewhere between a remix project and a new album proper, and features a host of new tracks, many of which hold a healthy selection of UK emcees as well as a cast of seasoned veterans from the underground US scene.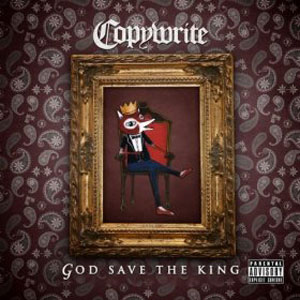 You could easily dismiss a project like this as one last swift milking of the cash cow or a way to generate a final bit of mileage out of an older project, particularly in light of the relative success some of Britain's more mainstream rappers are currently experiencing in the US. But don't expect some limp, watered down club tracks in the vein of say Chris Brown & Chipmunk.
Copywrite
has always firmly been an underground emcee, and his choice of collaborators from both sides of the pond on this project provide a healthy reflection of that fact.
Throughout the album Copywrite shares the spotlight, with guests ranging from US underground mainstays like Wu-Tang's
Inspecktah Deck
or
Sean Price
to seasoned British lyricists such as
Mystro, Iron Braydz
and
Genesis Elijah
. It's a credit to all involved that no one emcee stands out as mismatched or out of place on a track, especially considering most involve switches between American and English artists between verses. It is also a credit to Copywrite's selection skills too; the roll call of UK artists involved shows the man actually knows something about the UK scene, as opposed to just picking whoever is currently selling for a phoned in verse. It's rare you'll see any of these names in the chart but they are names you'll be instantly familiar with if you follow home grown hip-hop.
Lyrically Copywrite is on fine form for the majority, particularly on 'More Sorrow'; an introspective piece about the loss of his grandmother and 'J.O.Y' a standout cut about the loss of his parents. It's bold steps like these that help to carry the record through a few of the slightly less remarkable cuts; nothing stands out as particularly bad, but at a hefty seventeen tracks clocking over seventy minutes of music it was always going to be the case that some tracks miss the mark more than others. These softer numbers are also nicely complimented by some much harder cuts, particularly noteworthy is 'Crooked Coppers' with Crooked I of the US and UK's Iron Braydz and 'Troop Jackets' with Sean Price and SAS.
It's unlikely that this album will convert anyone who isn't already of follower of underground hip-hop to the sound, but then again that isn't really the point. It does, however, show Copywrite's versatility as both an emcee and on a more conceptual level and shows off excellently the talents of all involved. If you even having a passing interest in traditional hip-hop this is definitely a record worth finding.