Conquering Animal Sound - Kammerspiel (Gizeh)
Glaswegians Conquering Animal Sound unravel their debut record.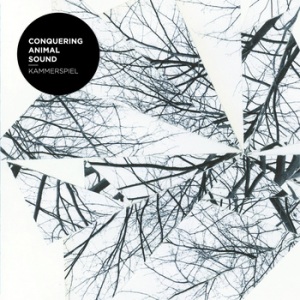 The problem with this band is that the word 'conquering' seems to denote some sort of process which they're going through but on this latest fantasy outing from Gizeh records, these guys have already done the job. At least they've certainly conquered Bearded. Anneke Kampman and James Scott have quickly created a wholly professional and unique sound that is enough to make other debut albums run like sheep from wolves.
Again as a seasoned pedant I'm inclined to pick holes and Conquering Animal Sound leave one wide open by stating on their website that they think
Kammerspiel
(the name of this shining debut) means machine music. However the fact that this is wrong is a blessing in disguise as the Glaswegian geeks have inadvertently hit the nail on the head. The actual translation in a literal sense is 'bedroom play' but in German this puts across a sense of intimacy and playfulness that is ever-present in this recording. Take Anneke's beckoning in 'Bear' when she sings 'come inside 'cause you are cold' or opener 'Maschine' with its simple twinkling melodies, handclap rhythms and repeated 'you are home' slogan. The whole record feels like it's going to put its arms around you and bundle you up in a sort of playful escapist sound.
I have to point out at this time that this doesn't come across on first hearing. With its reverb-drenched layers topped off by a soft heavily harmonised vocal line,
Kammerspiel
can sound at once ghostly, frightening and cold. Creating an uncomfortable space that uses electronics and percussive samples almost to the point of being clinical is another obvious way to scare the average listener off.
But listen deeper and there's a hidden companionship beneath this. There is a fear present but James and Anneke have found a comfort in company and sincerely invite you to join. The aforementioned lyrics from 'Bear' then take on a new meaning - perhaps it is no warmer where they are but at least being together will take the edge off.
Through fascinating use of short, simple layers and suitable samples built up to a complex and overwhelming whole, Conquering Animal Sound came, saw and conquered and all on their first album. Exciting stuff!