Comet Gain: The Misfit Jukebox (Tapete Records)
Cult indie-pop troupe cover all the bases with eclectic, ramshackle odds-n'-sods compilation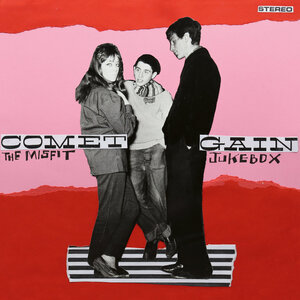 In certain circles,
Comet Gain
are legendary - the epitome of DIY, doing-it-for-the kids indie purism. But this writer hadn't actually heard them until this collection popped into his inbox. A mix of rarities and demos, it has been available since early June. Better late than never, huh?!
The album presents the band - now in their fourth decade and the survivors of various labels, line-up changes and swerves of musical direction - as the ultimate ur-indie outfit. The tues range from relatively polished potential singles to fragmentary, undercooked, "We'll finish this later" numbers (Like A Sparrow, The Time Tunnel). Fans of C86, garage rock, St Etienne, Dinosaur Jr, Belle and Sebastian and Darren Heyman will all find elements to love on this record.
While the vibe is scruffy and proudly imperfect, there is a definite air of pop classicism. Tunes rarely outstay their welcome, any solos are over in a second and we are never more than a minute away from a chorus. A tad more production quality would be welcome in places however - never mind garage rock, some of this sounds like it was recorded in a cupboard, muffled and thin.
The rockier moments mesh a wry, romantic, very English, sensibility with 90s US alt-rock sonics. Some songs are edging-on-anthemic, scuzzy, tinny, Dinosaur Jr-esque slacker-rock. Herbert Huncke Part 3, dedicated to the lowlife-loving, Beat icon is a highlight, a joyously sleazy Velvets shuffle.
The band has a knack for a killer one-liner and evocative song title. '
I never got my wasted years back
', bemoans Herbert Huncke, while Only Happy When I'm Sad could be a Brian Wilson manifesto slogan. Elsewhere, some of the best moments mine the small joys and major disappointments of slogging away in a band playing '
Cheap guitars in empty bars
' (No Spotlight On Sometimes, Skinny Wolves).
It's a real lucky dip of a collection. Generally, the better-produced, fuller-sounding songs come out best. The opener, bittersweet lament The Weekend Dreams, would fill any indie dancefloor ever. Your [sic] Just Lonely is a lovely pas de deux, a duet that sees despair transformed to tentative hope. Pinstripe Rebel's Chic-tinged social satire is a unlikely melding of St Etienne and Franz Ferdinand. When?! sounds like The Clash at their grooviest, while closer Letting Go is an exquisite minute-and--half of yearning.
Some of the weaker moments demonstrate why they never found a place on an album at the time. But many of these songs are good enough, packed with enough ideas and hooks, to prompt a deep-dive into the band's 'proper' albums.
3/5