Colleen – Captain of None (Thrill Jockey)
Dreamy atmospheres and unconventional production from French experimental artist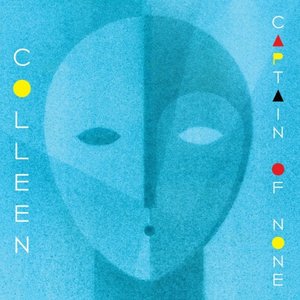 It took
Colleen
, pseudonym for French composer and producer Cécile Schott, almost two years to once again reinvent her eccentric and nonconformist style into the unpredictable shape of her latest release
Captain of None
.
Moving in the early stages of her career from a sample-based style of production to a more instrumental approach, Colleen's artistic journey has landed on a new virgin land.
However, the most recent release opens a door to a new range of sonorities and composition choices. The foundation of the whole album is built of her peculiar main instrument, the baroque 'viola da gamba', unconventionally tuned and plucked instead of bowed, looped and filtered through an intricate web of delay effects.
The way Schott's dreamy vocals merge with the delicate sound of the 'viola da gamba', almost fusing into one single entity, gives the record an uplifting, ethereal feel. Profound bass lines and fast-paced percussive elements are then added to guide the listener into the mysteries of the ephemeral world built by Colleen.
This evocative nature is as evident in the music as in the lyrics, inhabited by images of distant lands and an epic past, as well as vivid metaphors and introspections.
Incorporating the most diverse influences, from dub to world music,
Captain of None
also has a taste for experimentation, particularly in the use of effects and rhythmic elements, which has been characteristic of the recent era of British electronica. It almost reminds the listener, at times, of some of James Holden's recent work.
The opening track 'Holding Horses' serves as an introduction and a declaration of intents, anticipating, with its looped viola and solid bass line, the nature of the whole record.
'I'm Kin', featuring the first appearance of Colleen's reverberated vocals, is an atypical gem lying somewhere halfway between pop, world music and electronica.
In 'This Hammer Breaks',
Captain of None
takes a deep dive into experimentation, drifting away momentarily from the melodic nature of the album. Its prominent rhythmic elements are twisted and dissolved, moving towards the end of the track, through looping, distortions and various sound manipulations.
The influence of the masters of dub Lee "Scratch" Perry and King Thubby is evident in 'Eclipse', with the use of echo effects on percussions and vocals, typical of dub music production.
The lyrics "f
or I got lost inside a dream that left me captain of none and nothing
" in the concluding title track, marks the end of a journey that feels, in fact, dream-like.
Colleen's ability to elaborate on apparently incompatible elements and production techniques, creates a unique, otherworldly dimension. She leaves us with the sensation of having experienced a precious moment of raw beauty.
Overall
Captain of None
is a rare piece of musical freedom in a contemporary scene in which even experimentation is often losing the boldness and lack of restrictions it should imply.