Cloud: Plays with Fire (Audio Antihero)
Like walking into a glitter drenched house party with Architecture in Helsinki doing the drinks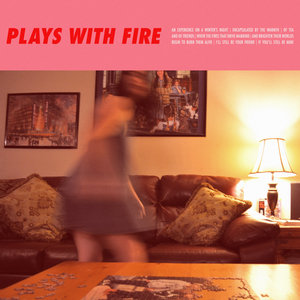 On his latest, and possibly final album, Los Angeles resident
Cloud
has found a way to channel the sunshine of the West Coast but also lace it with something like an industrial lullaby.
At times
Plays with Fire
is manic and at others it is contemplative. It's composition over the course of a number of years, throughout the course of a number of life events, comes through on as the album shifts rather than flows from track to track, with songs that change from the surreptitiously mournful Me, Her & Lavender to the revelry in frustration of Two Hands Bound.
In fact,
Two Hands Bound
is caught somewhere between the bright, pitched delivery of early Animal Collective with full Panda Bear influence and the carefree indie-pop musical equivalent of half an hour on a space hopper. Think of it like walking into a glitter drenched house party with Architecture in Helsinki doing the drinks.
That same Panda Bear influence is to be found on the album's first single release
Wildfire
with reflections on life lessons learned '
Well, yes, you are fucked up/You may always be this way/But the trick is to know when it's okay'
.
Throughout
Plays with Fire
Cloud sticks to being concise with songs and leaning towards fun with jangling guitars structured by a considerably more sensible meandering bassline which ties everything together, it's such floaty pop that it feels liable to float off into the atmosphere without its lead-like bassline.
Whether Taormina realised it or not when writing the songs, this album does feel like a farewell. A siren-like chirp on the chorus of Me, Her & Lavender hits that middle ground of nostalgia and moving on. Talking about the past, enjoying it, but not really wanting to go back to it.
Cloud aka Tyler Taormina, sums up: 'We all listened to this record for the first time on February 17th, 2017 in my Los Angeles apartment… Something was moving around over our heads in the darkness, it felt right, like an angel of sentimentality. When the album was coming to its close I sensed that something tremendous was ending along with it, but I had no idea as to what…'
It's an album that's not without its staggering songs. For instance, Oh, So Juvenile slows the party and stumbles drunk out the door. However, if this is farewell, then after three albums, Cloud is moving on with soundscapes tackled and misery turned to joy.