Clogs – The Creatures in the Garden of Lady Walton (Brassland)
A collection of pristine arrangements that are simultaneously comforting and moving, packed with flourishes and a keen sense of melody...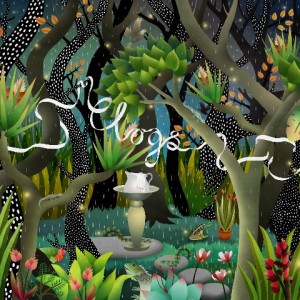 In typically bus-like fashion, you wait ages for a new album from The National and then you get two treats at once. As Matt Berninger and co return with their latest record,
High Violet
, so do Clogs, the brainchild of their regular collaborator Padma Newsome along with National guitarist Bryce Dessner.
The chamber-rock quartet brings with them a stellar supporting cast on this follow-up to 2006's elegant
Lantern
, including Sufjan Stevens, Shara Worden of My Brightest Diamond, and Berninger himself. Where
Lantern
exhibited echoes of Rachel's, and the post-rock leanings of Tortoise,
...Lady Walton
finds Newsome painstakingly crafting an intricate song cycle which captures the four-piece's most overtly baroque tendencies.
Unlike their previous outings, where Newsome and co favoured largely wordless walls of swelling strings and a decidedly minimal feel, one of the more dominant presences here is that of Worden whose guest vocal illuminates several of these tracks. Her tremulous voice lies at the heart of what makes the album work well, yet also what makes it sometimes sound a little overcooked.
For a band whose quiet majesty is perhaps their trump card – and their ability to subtly tease out florid melodies from the barest of arrangements is a significant reason for the acclaim – Worden's grandiose appearance on 'The Owl of Love' sees them go in an altogether different direction, and it's one which sits uneasily at times, though her impressive vocal range is worth noting.
At the other end of the spectrum is 'Last Song', which features Matt Berninger on vocals and favours a much starker approach, its barely-there arrangement being wonderfully understated and coaxing an affecting performance from the singer. Gently finger-picked guitars creep and turn in on themselves, while Rachel Elliot's bassoon only adds to the sombre atmosphere.
To concentrate on the differing vocal styles present on
...Lady Walton
is to do a disservice to Newsome, though. His pristine arrangements are simultaneously comforting and moving, packed with flourishes and a keen sense of melody, and the meeting point between violin, viola, guitar and bassoon is augmented by ukulele, marimbas and chimes to create a rich melange of sounds, with the hypnotic 'I Used to Do' being a multi-layered highlight.
Certainly more challenging than previous Clogs records,
...Lady Walton
is nevertheless a fine example of Newsome's knack for composition. And while it offers a less immediate reward than its predecessor, this is a daring journey and one which has a myriad of rewards.