Cheval Sombre – Mad Love (Sonic Cathedral)
The second album by Cheval Sombre, effectively the solo project of NYC based poet/musician Christopher Porpora, Mad Love comprises ten slow-burning psych folk cuts. Co-produced by Spaceman 3 alumnus Pete 'Sonic Boom' Kember (who also handled mixing and mastering) and featuring Galaxie 500s Dean Wareham, the LP alternates between out of focus pop songs and longer largely instrumental meditations.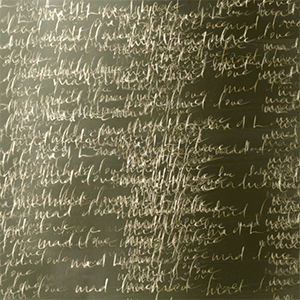 The album's opening lines "
I wasn't made for this world, no/I belong to someplace else
" over a slow Vox Continental fugue sets the scene for the disc's expansive nocturnal psychedelia.
Led by acoustic guitar and vintage synth without recourse to any forms of percussion, the gentle strumming and burbling keys take on their own hypnotic flow as the album progresses.
'
Walking in the Desert
', underpinned by a bassline reminiscent of the
Twin Peaks
theme and mournful violin sees '
Porpora
' sound uncannily like
Gruff Rhys
, whose softer solo material away from
Super Furry Animals
the album occasionally evokes.
The summit of the album is reached on '
Once I Had a Sweetheart
', a cover of an American folk song, its blissful soft-focus melody gently stretching out over the course of four gorgeous sun-dappled minutes.
Venturing into more out-there territory '
Couldn't Do
' dispenses with its repeated refrain of the title early on before giving way to a pulsating, synth-led sounscape of mandolins and sitars that almost nudges into double figures.
The similarly epic comet trail of '
February Blues
', the most
Spaceman 3
indebted cut here weaves a feather-light vocal melody around spare acoustic strums and gentle waves of feedback.
In complete contrast '
I Fell in Love
', a distant cousin of the
Mary Chain's
'
Taste of Cindy
' clocks in around the two minute mark demonstrating
Porpora's
ability at creating poppier material.
Elsewhere an inspired cover of '
Red Moon
' by fellow New Yorkers'
The Walkmen
re-tools the steady waltz of the original into something approaching a desolate country lament.
A rendition of
Hoagy Carmichael's
'
The Nearness of You
' meanwhile proves to be a slight misfire, the swirling white noise and echoing arrangement of the much-covered standard obscuring the song's melodic core.
Concluding with the hazy swoon of '
Let Me Follow You Down
', the track brings the set to a close on a highpoint, the birdsong samples the sound of the dawn chorus breaking after the small-hours intimacy of the preceding nine songs.
Next to useless on an early morning commute prior to the drudgery of the daily grind, played at the other end of the lunar phase
Mad Love
makes for quintessential, beatific late night listening.