Cheatahs: Mythologies (Wichita)
London based psych quartet return with brilliant second album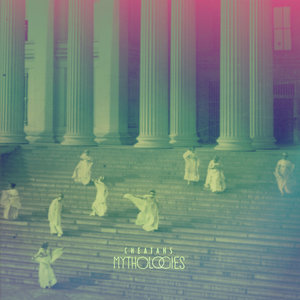 In an age when the protocol for releasing albums dictates that the appearance of a long player every two years plus an accompanying tour is the ideal model for bands, groups with the ambition (plus the material of course) to issue more than this quota ought to be applauded.
Appearing just over 18 months after their sterling eponymous debut LP
Mythologies
, the second album by neo-psych quartet
Cheatahs
is their third release this year following a double hit of four track EPs. As those two discs,
Sunne
and
紫(Murasaki)
showcased, the London based band have augmented their founding indie rock template with a more textural approach.
Produced by the group's in-house studio professor bassist/keyboardist Dean Reid, the album dials down the coruscating guitar clamour of their early work to place more emphasis on synths and mosaic-effect guitars. While psychedelia/shoegazing is a category famed for indistinct lyrics, the present band wisely push the vocals up in the mix. Understandable given the strength of the melodies, it throws greater light on the group's lyrics, written alternately by guitarist/vocalists Nathan Hewitt and James Wignall, rich in references that run the gamut from jazz singer Cab Calloway to actor Don Ameche and physicist Joseph von Fraunhofer.
Opener Red Lakes (Sternstunde), translating as 'auspicious' or 'decisive moments' that features a spoken word passage in German sets the tone for an album steeped in allusions travel and foreign locales, understandable for a band whose members are drawn from London, Alberta, San Diego and Dresden. Focusing on the latter parent country, recent single Signs to Lorelei (
video
) pays homage to the town of the same name and joins the small stockpile of songs about the locale by Cocteau Twins and Roxy Music.
Providing a bridge to the previous LP, the grunge pop of Hey Sen supplies the LPs most immediate hook, its '
Hey Sen, be my friend
' chorus becoming near immovable from the memory, paying homage to (poetry era) Leonard Cohen, Samuel Beckett and Marcel Proust along the way. More references to the band's bookshelves abound in 紫(Murasaki), inspired by the lead character from the colossal 11th century novel
The Tale of Genji
. The title track of the band's second 2015 EP, the cut is the fastest paced thing here, a synth powered rush predominantly sung in Japanese.
Elsewhere, returning home to Blighty Channel View finds Cheatahs at home in front of the telly. The choice of programming proves to be excellent as a Dennis Potter authored
Play For Today
is on, '
Watching Blue Remembered Hills/Been a while but you like it still
'.
Proof of how far the band's sound has developed since their early EPs meanwhile, Colorado ventures into swarming white noise textures before concluding with a metronomic arpeggio and gorgeous synth coda while
Mythologies
most outré track Su-Pra succeeds in being genuinely disorientating, a stop-start motorik chug overlaid with warped guitar samples that scrawl from one speaker to another.
Excellent lead single Seven Sisters, buoyed by additional vocals from Liv Willars and Heather Perkins is a series of guitar motifs reassembled into wonderful new shapes, while Mysteci is the sound of
Nowhere
-era Ride combined with the mellower moments of Aphex Twin.
Reverie Bravo sees the set conclude in downbeat mood, as a portentous gothic organ refrain provides the bedrock for a lyric that seems to deal in part with writer's block '
Once you were so fluent, it came so easily/But it's impossible now
' goes the opening lines. Clearly not something the present band have any concerns with, interested parties best get acquainted with this quickly as their next release will doubtless be along soon. A magnificent album.