Chain Wallet – Chain Wallet (Jansen Plateproduksjon)
Melancholy Norwegian pop minimalists deliver highly promising debut LP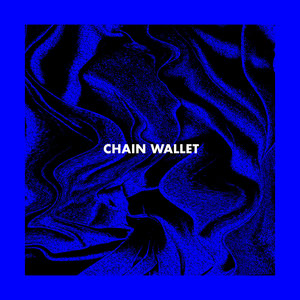 Arriving via a handful of scene-setting 45s, all of which appear here, Norwegian dream pop architects Chain Wallet deliver an album which perfectly distils the band's sound first time out. Named after an accessory now long vanished (at least from Blighty) that was de rigeur during the 2000-03 musical dark ages that was nu-metal, the Bergen-based trio are about as far removed from that strata of angst peddlers as possible.
Honing in on a wistful strand of dream-like indie that sits neatly alongside two of the most acclaimed US alt. pop groups of recent years, Wild Nothing and Future Islands, Chain Wallet at times resemble a more straight ahead version of fellow Scandinavians, The Radio Dept. The song titles on Chain Wallet effectively describe the LP on their own, Muted Colours, Pale Memories, Remnants of a Night and Running In Dreams are swooning indie pop confections set to chiming chorus pedal guitar arpeggios and percolating synths.
The steely pace of Abroad and Shade make light work of sombre moods, the chorus of the latter '
Tell me Shade/Where do you reside?
' managing to be unusual and memorable. In oxymoronic fashion the band's uplifting melancholy is best expressed on Muted Colours, cleverly holding off before introducing the choruses, on the off-beat. Embellishing their tracks with subtle indelible touches to tease out the melodies within, Pale Memories is brightened by a simple cascade of guitar notes while Remnants of a Night is given buoyancy by its pretty, recurring keyboard melodies. Ensnaring the listener with a succession of play-in-a-day guitar motif and simple chords, Driving achieves spaciousness through minimal elements, while Faded Fight makes perfect as a recent single, the weaving guitar and keys motifs intertwining to become the most immediate track present.
Stuck In the Fall, issued as a single last year has, with verses reminiscent of English synth pop conceptualists OMD, before bursting into an iridescent chorus. Able to pen a sharp couplet, cf: '
My tinted windows/conceal a broken mind
' from Change of Heart and '
Walk into a trap and waste another year
' Running In Dreams given a lift by a siren-like choral arrangement, offers a glimpse of the bitterness that festers under the ennui and dislocation. The introduction of some variation in the material to bring the band may be necessary next time around on album number two, but before any of that however
Chain Wallet
is a highly enticing introduction.