Chad VanGaalen: Shrink Dust (Sub Pop)
More consistency, more dreams, more music from the basement from the man who makes his own instruments – but no Banana Bread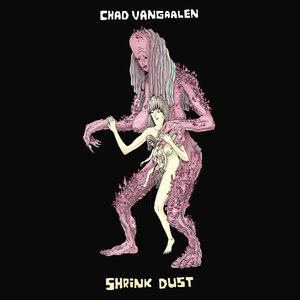 If anyone has had the pleasure of watching one of
Chad VanGaalen
's animations that he creates for his own music videos or those he has produced for other bands, then the kaleidoscope of ideas and colours displayed on
Shrink Dust
will come as no surprise.
With a voice touching on fellow Canadian Neil Young, and an imagination akin to Jeffrey Lewis, Chad VanGaalen's songwriting is in the anti-folk mould but with his own vibrant warped twist.
One of the most prolific songwriters around at the moment, he has apparently written hundreds of songs in his short career and with this, his fifth album, Chad VanGaalen shows no signs of slowing down. On previous albums he has proved that throughout his song writing he is also able to wield the cracks and slight squeals in his voice to give some sort of 'Last Post on the Bugle' hollowed out effect to stripped back songs, and otherworldly quality to others.
'Frozen Paradise' with its lovingly warped daydream-in-paradise style luau-guitar, and 'Weird Love' create two entirely different worlds, which being as many of VanGaalen's creations are borne from dreams, makes sense. And thanks to the VanGaalen being so close at every stage of production –
Shrink Dust
was recorded at his own Yoko Eno studios Calgary, Canada – the finished product still has the slightly loose structure and colour of a dream.
The turn of phrase used drags you into VanGaalen's world; "
Ripping my eyelids a little bit wider/Are two prying hands that grew out from my shoulders/ And I can't explain why, but it's hurting my eyes
" A slightly more aggressive way of pinning open tired eyes perhaps, from the song 'Monster'?
Undoubtedly contributing to this sound is determination, natural curiosity or short-attention span which means he can, and does, turn anything under the sun into an instrument. Effectively making 'found' instruments. As he says of one of the noise-makers he uses on the album "It took me a month to set it up, and a year to be comfortable recording myself playing this thing" – there is a rapid bleeping on opening track 'Cut Off My Hands' this could be it, but I just couldn't say. Constantly looking to learn new sounds is something VanGaalen seems used to. When first playing guitar he learned in the wrong tuning. So he had to learn the instrument all over again. After years of playing. Bugger.
These 'found' instruments are interspersed with clusters of traditional sounds such as bass, snare drums, clarinet and guitar. It works well and reinforces the unique sound that this neon-folk man is peddling.
Chad VanGaalen is a wonderfully and consistently eccentric artist. His work on both art and music has led to him working on a full-length animated film version – probably be a little like
Fantastic Planet
the 1973 animated film – being nominated for a Polaris Music Prize, supporting the Pixies, forming a band with his daughters called Banana Bread and producing most of his albums as well as most of his instruments. This album shows more consistency, if a little less willingness to stampede through with a heavy riff, more dreams and more music from the VanGaalen family basement.