Cayucas - Bigfoot (Secretly Canadian)
Ben Wood lends an ear to Cayucas' debut record and ponders the fate of modern society.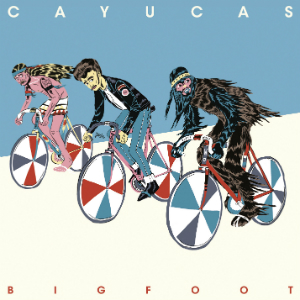 Let's not beat around the bush:
Cayucas
sound a lot like a Californian
Vampire Weekend
- not that there's anything wrong with that. Clipped, garagey but super tuneful songs clocking in around the three-minute mark? Check. Preppie-looking dudes singing about college hijinks and girls named Elizabeth? Check. Vocals way up front and echoey as hell? Check. The main differences seem to be that Cayucas are more likely to wear shorts and, influence-wise, they replace VW's Afro-pop fixation with a more tropical slant.
Frontman
Zach Yudin
's band is named after a small Cali seaside town where college kids would drive out for surfing and kicks in the
Beach Boys
-inspired early 60s. By and large, the band's music on this eight-song, just-about-an-album shares this wholesome, carefree vibe. The tunes showcase Yudin's talent for observational songwriting – though on listening, the concerns set in early as to whether they are strong enough to amount to more than pleasant-sounding, slightly pointless pastiche.
They certainly start off at a clip with the peppy groove of 'Cayucos' [sic] and the great thrumming bassline of 'High School Lover'. The pace drops for the likes of 'A Summer Thing' and 'Deep Sea', but whether the music is in up-tempo indie disco mode or slower and more reflective, the well-crafted lyrics stick to two basic themes.
Even when Yudin's protagonists are enjoying seemingly blissful long summer days, they also seem to be looking back at them nostalgically, as if missing them while they simultaneously take place. And they are almost always planning on hooking up with girls, hooking up with girls or looking back at hooking up with girls.
These tunes are agreeable enough, strongly melodic and well constructed. However, their relatively narrow musical and emotional range means that they work best in small doses. Perhaps the short running time was a smart move.
Unfortunately for Cayucas, the fact that another band defined these parameters before them means they may be thought of as a footnote to Vampire Weekend rather than a band in their own right and with their own ideas. For a really inspired take on the whole 'preppie melancholy' vibe, you might want to try the genius
F Scott Fitzgerald
-meets-
Timberlake
vision of
No Kids
' unjustly neglected 2008 classic
Come Into My House
.
This record certainly brings pleasure, though it is more interesting for what it represents than what it sounds like. It seems that most new US indie bands are turning their backs on the ever-trickier present and seeking comfort in an imaginary past. This is understandable, but worrying in what it says of the current culture. Is no one optimistic for the future anymore? A scary thought.
In this age of Instagram and economic collapse, it appears that we are all nostalgics now.