Castrovalva, Shield Your Eyes, That Fucking Tank, KONG - Split 10" (Brew)
Another month, another split 10" from Leeds' own grotesque beauties, Brew Records. Following the popularity of the previous experiment, the guys have come out with another fantastic demonstration of why they're on top of the cacophonous pile that makes up the Leeds noise scene.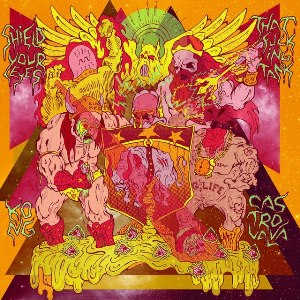 Starting with
KONG
then and we get everything we hoped for. 'Ribbons' is a demoralising stomp through molasses-consistency faeces. With an emphasis on the 'call and response' of groups of three stabs, this is as relentless as it can be until it reaches its almost pleasing peak and finishes writhing on the floor with an occasional re-entry from a dying guitar or an attempt from an unsatisfied drummer to pick up that lost drive. But alas, it's over and we are thrown out of the door by lead singer Magpie telling us in his constricted tones that "I was the king".
Quite a different approach is taken by
Shield Your Eyes
in 'Jessica'. With shedloads more melody than their arrogant forebears, these guys have even chosen real subject matter for their lyrics! Starting with a mildly dissonant riff followed by a rough vocal that clearly outlines what appears to be a 'hook', the listener can easily be lulled into a false sense of security. However, get halfway in and you'll be roused from that state by a ten second mess of painful strikes followed by an instrumental in which every instrument takes the centre of its own psychotic stage. This continues through to the punctual return of the central riff and a frenetic outro to please those of us who haven't already lost our minds.
By far the most conventional track on the album,
That Fucking Tank
's 'NWONWOBH' is a durge'n'roll trudge through swamp-like riffs. Masters of evolving their ideas, That Fucking Tank expand and regurgitate their riffs with all the care of a mother bird. The central riff is made up from galloping rhythm and chordal double-stops in equal parts (sounding not unlike some classic Iron Maiden parts), triplets bounce off the walls throughout the song and some of the swung parts could easily see Jack White standing behind the fretboard.
Castrovalva
's latest offering is as wacky as ever. Egotistical but not indulgent, deadly serious but childishly playful, 'In Our Prime' is a beautiful slice of Valva and works all the hallmarks that the band have honed. With lines like "everyone loves that Valva sound" and "remember the rules yeah – don't be a pussy", Castrovalva hit that space between Tenacious D and Enter Shikari with such clownster panache that it would be hard not to love them.
The idea of doing split ten inch records is a nice one and is perfect for providing fans with essential between-album material. However, once you look past its values as a collector's curiosity and an outsider's introduction, this is only four tracks long and has no consistent themes. This is four brilliant tracks by four brilliant bands but perhaps a more cohesive aesthetic could be adopted for Brew's next outing.