Caravan Palace - Robot (Mvka)
Caravan Palace update Prohibition-era hot jazz by injecting it with some 21st century dancefloor va-va-voom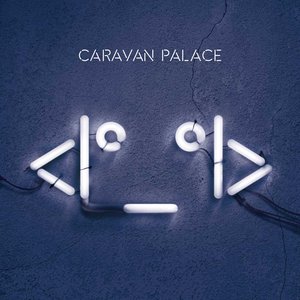 Robot, the third album by Parisian retro-futurists
Caravan Palace
is a record out of time in several ways. Though aimed at modern dancefloors, it is based on the sort of swinging, syncopated, pre-war hot jazz that's the best part of a century old now. And its combination of soulful vocals, lurching stop-start dynamics and unabashed dancefloor populism is reminiscent of the years when Fatboy Slim ruled the nation's charts and dancefloors.  
This is instantly accessible music, not for chin-strokers or music snobs. The band is a big draw on the festival circuit, and it's easy to imagine tunes like the anthemic, synth-strafed 'Comics' making perfect sense in a sweaty tent at four in the morning. Hooky piano and horn riffs are complemented, on the likes of 'Wonderland', by the sassy vocals of Zoe Colotis. She also provides the occasional hip-house-style rap and also provides a certain hip-hop swagger and attitude.  
When the likes of Saint Etienne melded jazz and house in the 90s, theirs was a cooler, more laidback hybrid. This record sacrifices Saint Etienne's late-night melancholy for an altogether more in-your-face approach. That's not to say that the mood doesn't get more abstract on occasions: the relatively downbeat 'Aftermath' features distracted scatting and woozy, disconnected atmospherics.  
But overall this music reminds the listener that jazz was originally sexed-up good-times music for dancing and romancing. That spirit comes through loud and clear, combined with that certain
je ne sais quoi
that French artists bring to pretty much everything they do (it may be a cliche, but that don't mean it ain't true).  
OK, say the cynics, it's accessible and catchy all right, but isn't it a bit gimmicky? Well, no more so than Moby's 'Play' album, which conquered the world by taking old blues records and melding their spirit and soul to modern electronic music. This is more upbeat, and occasionally feels a bit one-paced. However, if you fancy putting a smile on your face and dancing your ass off, this is a pretty suitable soundtrack. Turn it up and move your feet...