Canterbury - Dark Days (Hassle Records)
It's another magnum opus from Surrey rockers Canterbury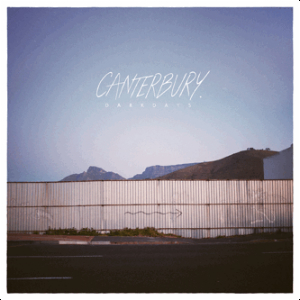 Canterbury
are a band who we have seen grow and mature. Their music was once full of youthful naivety and innocence, but it seems those days have now faded, appearing lost, as the four piece from Surrey come charging at us with their third album
Dark Days
. The band have stripped away layers from their familiar sound and exposed the true, intense side that has been dying to reveal itself.
The new album, which is released on the 13th January, kicks off with 'Expensive Imitation', a song that reveals how the band have developed to reach their full potential. The trippy intro pulls you in, and the beat of the drum hits you, followed by the screech of high-pitched vocals. This is not the Canterbury we have come to know; the alternative rockers have given birth to a heavier sound, which refuses to be ignored.
'Keep It Moving' brings to the album a meaningful and deep vibe in which you lose yourself whilst trying to guess the story behind the song. The same goes for 'Out From The Cold', as you will be caught up in the spiral of the prolonged crashing drum sound and intense haunting riffs that leave the hairs on the back of your neck standing.
'Going Nowhere' is slightly similar to 'By The Trail' though it is surprising to hear after such a powerful and bold ending to 'Out From The Cold', as the difference between the two songs is extremely drastic. 'Going Nowhere', the final track of the album, seems a little misplaced and leaves you wanting to hear just the faint sound of a scruffy guitar riff for reassurance, but unfortunately this does not happen. Even though the last track proves to be mediocre, it does break up the album and harks to a more old school Canterbury and their early material from debut album
Thank You
.
Canterbury will definitely do their new creation justice through live shows, with the energy and enthusiasm they give off plus the atmosphere that fills venues from their large, devoted fanbase. Unfortunately, many small bands, including the Canterbury boys, lack the recognition they seek, and it's clear to see this band is hugely understated. Let's hope Dark Days earns the appreciation it deserves. Perhaps now Mr Justin Bieber has allegedly decided to retire, his brainwashed 'bielbers' will wake up and spot the true talent out there, which is so often taken for granted.
Canterbury will be performing a live sold out show at The Hospital Club, London on the 13th January to mark their latest album release.