Calva Louise: Rhinoceros (Modern Sky)
London indie pop crew delivers the good on thrilling debut LP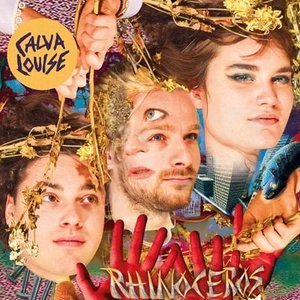 Named after the play by French/Romanian avant garde writer Eugène Ionesco,
Rhinoceros
by London based power pop Calva Louise outfit possesses all the energy a debut LP should have. A succession of short n' sharp alt. rock bangers, like New Wave doyens The Jam and Blondie the aim here is keep everything as tightly focused as possible. With their live skills honed by near-constant touring, the ten tracks here are given additional studio gloss and rhythmic punch by Goat Girl producer Margo Broom.
With a clutch of album previewing cuts already issued, the trio have plenty in the tank to fuel the rest of the album. The breathless I Heard A Cry and
I'm Gonna Do Well
, suggesting an out of control merry-go-round tune bolted on to a wiry post-punk chassis are breakneck paced treats. Tug of War opening with guitarist Jess Allanic's frantic Graham Coxon style chord pattern tumbles along in excellent style, this and Cruel Girl, showcasing the strength of the band's vocal harmonies. On the subject of Blur, the Britpop originators appear to be an influence on the trio, with the unison bass / guitar riff of No Hay strongly redolent of the band formerly known as Seymour circa
Modern Life Is Rubbish
, the lyrics sung in English and Spanish allowing Allanic to pay homage to her Venezuelan roots.
Based around Alizon Tahoa's irascible bass riff that explodes into a "la-la-la"-ing chorus,
Outrageous
, steered by tubthumper Ben Parker skillfully swerves into a waltz section, which along with the off-kilter time signature of Wondertale underlines the trio are far from content to throw everything down in 4/4 time and hope repeating the chorus endlessly will suffice. Elsewhere
Getting Closer
sounds like a melancholy cut from
The Great Escape
(or the recent The Good, The Bad and The Queen LP) with its End of the Pier organ track and wistful "
If you don't wanna stay / Run away, Run away
" chorus.
Down the Stream is sweet 1960s influenced retro pop while the brooding Out of Use booms along like Wolf Alice in punk mode. A clear demonstration that there was plenty more where their singles came from,
Rhinoceros
makes for a thrilling debut set, and to refer back to I'm Gonna Do Well, on this evidence they certainly will.
4/5