Buzzard Lope - Daybreak (Lost Toys)
A buzzard lope is an ungainly comic dance, reminiscent of a turkey buzzard preparing to eat a dead mule – apparently it went down a storm in the minstrel shows of the 1890s. You'd imagine a band so named would be hard-drinkin' pop-punk goofballs or larky cut'n'paste merchants a la DJ Yoda. You'd be very wrong indeed.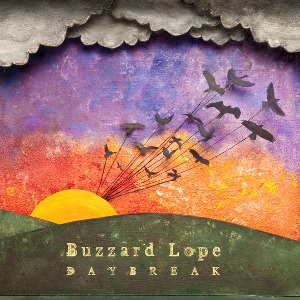 Buzzard Lope, are in fact, a very classy proposition indeed - soulful exponents of late-night balladry with strong jazzy roots. Fed up with a diet of pub gigs, singer/pianist Roger Illingworth and double bassist Adam Jarvis joined forces with Brazilian drummer Raphael Saib, and the result is this uber-classy mini-album.
Recorded against a harrowing backdrop of "disease, death, love, tax and immigration",
Daybreak
is likely to strike a chord with fans of Tindersticks, Elbow and later Nick Cave and the Bad Seeds. Filled with rueful yet defiant lyrics and classy, occasionally expansive arrangements, this is music that has lived a bit: the sonic equivalent of an expensive suit marked, on closer inspection, with cigarette holes and whiskey stains.
Opener 'Miner's Son' is a moody slow burner, its switch from hushed opening, with rippling piano and subtle female backing vocals, to surging conclusion, a good indication of the band's range of dynamics.
Unlike some of his peers, Illingworth may be serious, but he's not self-important: seduction saga 'Gentleman' sees him warning his latest love interest "You can come in but the coffee is bad and the sex is pretty terrible"!
Daybreak
is beautifully recorded, warm and alive, with every nuance of every instrument captured. The subtle, jazzy drumming and evocative strings work particularly well.
A classy effort for sure, then. There's a lot of detail to immerse yourself in, and it might take a fair few listens to determine whether this is a real corker or just more beautifully tailored emperor's new clothes. But it's certainly worth taking the trouble to find out