Brother JT - The Svelteness of Boogietude (Thrill Jockey)
Brother JT brings the rock and the good times with his latest full-length release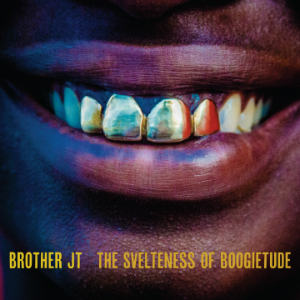 Humour in music gets a bad press sometimes. But life can be a bitch, and laughing at the great cosmic joke is often the only reasonable response.
The Beatles
larked around plenty - and they were pretty handy by all accounts.
This brings us to the mysterious
Brother JT
. Like Nashville nut-job
Dave Cloud
,
John Terlesky
is a man in his middle years, with substantial appetites and, at a guess, a total inability to function in polite society or hold down a steady job. Polite society's loss is our gain.
Terlesky spent years playing garage rock before developing his eccentric, psychedelically-inclined
Brother JT
persona. Proudly sleazy and slobbed-out, this chemically-altered alter ego twists the decadence, fat grooves and gigantic choruses of early 70s rock and funk into weird and madly entertaining new shapes.
Musically, there's a lot going on. For every denim-clad bong-hit like opening track, and slacker's charter, 'Celebrate Your Face', there's a delicately pretty, string-assisted ballad like 'Gliding' or 'Mourning Dove'. And the grooves take many shapes: 'I Still Like Cassettes' hymns technological imperfection to some nifty disco, while 'Sweatpants' has a touch of Dirty South hip-hop to it.
Brother JT is a man of broad sympathies. Accompanied by stinging wah-wah solos and gospel-influenced
Allman Brothers
grooves, the Brother praises women's derrieres ('Sweatpants') and chubby midriffs ('Muffintop'); thanks Satan for his good fortune ('Somebody Down There'); prays to the church of
Marc Bolan
; and rhymes Tanqueray and Sister Ray in the self-explanatory 'Things I Like'.
Elsewhere, the shamelessly nonsensical 'Be A' references early love before busting out into a stadium-tastic guitar solo. 'Flotsam and Jetsam' then closes proceedings with a great sax and screaming guitar strain before referencing
Lou Reed
and
Dylan Thomas
.
As the career of the
Beastie Boys
proves, there are few more entertaining sights than very clever people being very 'stoopid'. As the man himself raps during the none-more-sleazy 'Sweatpants': "Life is hard enough / you should have some wriggle room."
Amen to that, Brother.
The Svelteness of Boogietude
is packed with tunes, in-the-pocket grooves, sardonic one-liners and a gleeful sense of fun. Who wants to grow up, anyway? Screw that. Like the soundtrack to a deeply debauched party, this album is so much fun, it should be illegal.