Boothby Graffoe - Songs For Dogs, Funerals…(Makin Projects)
The once-proud comedy album is making something of a comeback.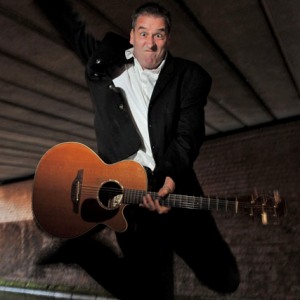 Eschewing the lure of releasing DVD recordings, a disprate group of lo-fi comedians such as
David O'Doherty
,
Tim Key
,
Demetri Martin
and
Bo Burnham
have all opted for making an album instead. It's perhaps no coincidence that all of these performers utilise music as part of their act, and this latest release from comic
Boothby Graffoe
finds him holed up in the studio to craft these fifteen tracks.
Understated and high on whimsy, Graffoe's songs are incisive and clever takes on well-worn musical conventions. The thought of comedy songs is sometimes enough to make people shudder, though thanks to the likes of
Tim Minchin
and
Flight of the Conchords
this instant repulsion might have been tempered somewhat. For such a lo-fi approach, Graffoe employs subtle production tricks accompanied by backwards guitars and found sounds.
Much of the album adheres to a folk-inspired feel reminiscent of
Jake Thackray
, who so memorably fused troubadour stylings with effortlessly witty lyricism. If Graffoe's set isn't always as rewarding as Thackray was at his finest, then acoustic strums like 'Never Say Anything Outloud' and 'Song For Boo' are packed with warmth and gentle humour.
Songs For Dogs, Funerals
gets more interesting when Graffoe mixes up the instrumentation. The piano-led 'Genesis 2:18' adds a smoky veneer to biblical references, and 'Sausage Fingers' is a light-hearted take on supper club jazz. He virtually throws the kitchen sink at closing track 'Hartlepool', a country-imbued stomp which scarcely pauses for breath.
Graffoe has recently recorded a DVD for the superb
Go Faster Stripe
micro-label (also home to established comedy names such as
Richard Herring
,
John Hegley
,
Simon Munnery
,
John Shuttleworth
,
Kevin Eldon
and
Stewart Lee
, who counts Graffoe among his favourite performers). It's easy to suspect that these songs appear at their strongest in a live setting, but nevertheless this is an intriguing record full of mirth and melody.