Bonfire Nights – Entopica Phenomica (Holy Beatnik)
London based Aussie psych/garage rock quintet release promising debut LP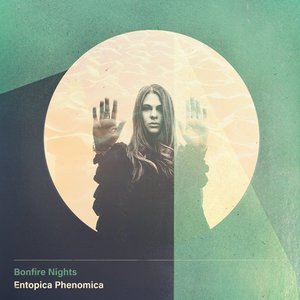 Relocating from their native Australia to London in 2011 the nucleus of
Bonfire Nights
Steve Foster (vox/guitar) and Ruth Nitkiewicz (drums/vox) recruited three like-minded travellers to create their debut LP, the idiosyncratically titled
Entopica Phenomica
.
A psych band who operate in the garage rock end of the spectrum, where reverb is applied so generously it almost becomes an instrument in itself, the LPs glassy production by The Duke Spirit's Olly Betts spotlights the band's combination of chilly Berlin-era Bowie and The Velvet Underground's brittle guitar work, given a 21st Century re-boot.
Frontloading the LP with the best material, bold lead single Easy Touch is an impressive opening salvo, a tick-tocking guitar arpeggio and unison male/female vocals, the latter a device the band should employ more often. Built on a chassis of percolating synth riff and recurring vocal hook, the excellent Mesmer Isles is icily imperious, while Heart's to Blame sounds like a more desolate version The Raveonettes crossed with Joy Division. Low, opening with the same deliciously unsettled atmosphere as
Piper At the Gates of Dawn
era Pink Floyd, with the introduction of the harmony vocals sees the track morph into something which sounds quite a lot like well, Low.
The none-more psychedelically titled Ego Death, where a person can undergo 'transcendence of the self', promoted by LSD proponent Timothy Leary and experienced by John Lennon who recounted in (possibly the greatest psychedelic track ever) Tomorrow Never Knows is a clangorous supercharged slab of vintage San Fran psych. Following a sample of Oppenheimer's famous 'Now I am become Death, the destroyer of worlds' speech, the cut lurches into a speed metal version of itself as it powers towards the close.
Bo Diddley Did Me despite being named after a musician groundbreaking enough to have his own beat named after him sounds less like The Originator than The Velvet Underground crossed with The Doors at their most sinister, complete with piercing Ray Manzarek-style Vox organ solo, the track unfortunately lacking enough of a hook to be memorable. Starting out as a straight-ahead garage rock dust up Going Round stretches into something more expansive, the closing shoegaze-y section allowing the group indulge in some gratifying FX pedal overload. Elsewhere Signal Failure is an echoing instrumental that is a dead ringer for the second side of Bowie's
Low
while Crossing the Wires is a fairly tiresome VU homage that strays into the same tedious territory The Kills occupy.
While their influences shine through a tad too strongly in places and their songwriting could use some sharpening,
Entopica Phenomica
easily possesses more than enough good points for Bonfire Nights to be worth keeping an ear to the ground for.