Black To Comm: Oocyte Oil & Stolen Androgens (Thrill Jockey)
Hamburg sound artist's ambitious new set is a rewarding, slow-burning listen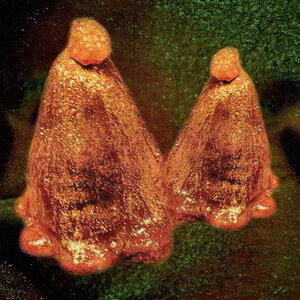 It's a peculiar impression to disseminate, that a collection of music as enigmatic and obverse as
Black To Comm
's album,
Oocyte Oil & Stolen Androgens
is exciting. But that's what the six-song suite ends up being, a labyrinthine listener journey built from bizarre musical sketches and deranged visions.
Black To Comm is the brainchild of ever-transforming producer and sound artist, Marc Richter, among the most challenging and creative audio artists working in contemporary music. The opener, Gustav Metzger as Erwin Piscator, Gera, January 1915 is an epic 17-minute sound collage, starting with a series of disembodied voices, rising and falling on an astral wave. Eventually, the haunted keys fill in that space, creating a stomach-churning arrangement. The voices never amount to anything, which in itself, makes their desperate, needful tones frightening to behold. Halfway through the track, a jittery, horror movie-themed piano line comes in. The track, full of beguiling complexity, itself worthy of multiple explorations, adds up to nearly half of the record.
On track two, Stolen Androgens (one half of what would be a title track) Richter uses similar vocal effects, but he layers them over a gorgeous piano line that is the same time sad and revelatory. On the title tracks' second half, Ooctye Oil the assembled tones are more pure soundscape, twitchy digital scratches, and what sounds like distant bird warbling. Or maybe it's something far worse, but that's simply the picture in my addled brain. The album's most elaborate track (and most satisfying, too) however, is Gepackte Zeit (für Hanne Darboven) a series of ascendant strings, shimmering and dancing to dizzying heights before crashing back into the closer, Rataplan, Rataplan, Rataplan (Arms and Legs Flying in the Air) a jumble of piano and vocals with a scratchy beat.
There is no doubt that this record showcases Marc Richter's creativity as top-notch. If you break down
Oocyte Oil & Stolen Androgens
into parts, it's quite minimal. Yet, for as little as there is here to work with, he builds tremendous mood and feeling. The effect is truly remarkable.
To some listeners on their first listen to
Oocyte Oil & Stolen Androgens
the tracks will be too distant, too abstract to get too deep on. But that's only on the first listen, and most worthwhile records require a few times through. Beyond that foreboding gate of initial impression, Black To Comm's latest work is a collection of thrilling, enriching sounds, like music rarely aspires to. While 2018's
Seven Horses For Seven Kings
was more cohesive, certainly more accessible off the cuff, this is a slower burn and, for that reason, offers a greater opportunity for that oh-so-rare descriptor, exciting.
4/5