Black Rebel Motorcycle Club: Wrong Creatures (Vagrant)
San Fran alt. rock stalwarts ring the changes with excellent eighth album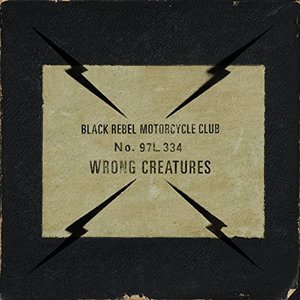 Now in their twentieth year,
Black Rebel Motorcycle Club
effectively stand as the only extant band from those lumped into the early 2000s garage rock revival. Making their name as shadowy purveyors of gothic leaning alt. rock, as their superb third album acoustic driven country/gospel blues gumbo
Howl
(2005) proved, the San Fran born outfit could expand into areas far beyond their skinny jeans and Converse sneaker wearing compatriots.
With therapy, drugs, inaction and medical traumas now successfully surmounted (drummer Leah Shapiro is thankfully recovered from a debilitating condition that required life-saving surgery) half a decade away has served to sharpen the BRMC's talent. The trio's eighth LP,
Wrong Creatures
displays an admirable desire to shake things up, as Nick Cave/Arcade Fire cohort Nick Launay is drafted in as producer. An inspired choice, the material is infused with an atmospheric drift that makes the most of the album's slower moments especially.
Proof positive that the present band were always a far broader, more interesting proposition than their peers, wordless opener DFF could almost be Massive Attack, a deep well of harmonized vocals and slow rolling drum loop. Trading vocal duties between them, bassist Robert Levon Been and guitarist Peter Hayes deliver the pitch black gems they initially stirred attention with on King Of Bones, a pulsating, vampiric banger that suggests The Doors hanging out at Berlin techno club Berghain, while lead single Little Thing Gone Wild is a shot of pure adrenaline powered by a truly malevolent bassline.
The centre of the LP delivers its richest rewards as Haunt, a soft caress of a tune, that glides past on slide guitar figures and subtle synth underpinning is followed by Echo, a beautiful rush of sound that bears comparison with Thames Valley texturalists Slowdive. Ninth Configuration named after a William Peter Blatty (
The Exorcist
) novel is even better, a seven-minute starburst that blossoms into full Technicolor like the best bits of early Verve. Dusty Delta blues workout Question of Faith showcases just how the three piece can keep a groove bubbling away effortlessly, placing themselves alongside relative newcomers All Them Witches.
Gradually emerging through a pea-souper of effects denser than San Francisco fog, Calling Them All Away swims into focus impressively elsewhere the Wurlitzer organ led Circus Bazooko is a real curveball that sounds for all the world like one of Blur's Life Trilogy-era music hall experiments before they accelerated into complete chaos (cue
Baby Driver
chase scene music here). Similarly off-kilter, All Rise sees the group banish guitars to combine a bedrock of piano chords with slightly dissonant John Cale-esque violin wail.
Whatever Happened to My Rock 'n' Roll? is just as relevant in 2018 as 2001 and in the BRMCs' capable hands its very much alive and in rude health. These particular wrong creatures have evolved splendidly.
Black Rebel Motorcycle Club Links