Bjork – Utopia (One Little Indian)
Bjork returns with an ethereal fairy tale made for the electronically optimistic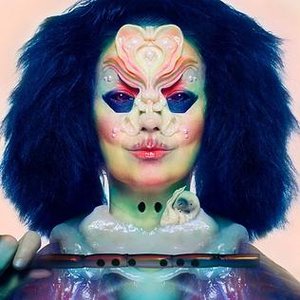 When playing
Utopia
for the first time it is instantly recognisable as a piece of work from
Bjork
. The familiar voice is there and the mixture of futuristic and past (here represented by electronic, robotic chugs that could be a recording of a computer dying and harps that sound like they could be from feudal Japan). But it is delivered in a calm, unflustered manner that hasn't always been there for the Icelandic legend.
Noticeably
Utopia
doesn't have any prominent yelps, hollers or vocal bites on it. It is a consistent album with very little manic flying about it. Instead, this latest effort is filled with flutes, strings, bright sweeping vocal whooshes and idealism.
Optimism shines through on lyrics such as '
break the chain of the fuck ups of the fathers
' and songs like Blissing Me which even though slow and reflective in tone, is '
celebrating on a vibrancy
'. And the music itself is brighter and cleaner in tone. Even some of the haunting vibes from choir backing vocal is removed by the positivity.
Single The Gate is a fine example of this. The sound is so clean it is almost underwater, while the running line is about
I care for you
, it isn't so much a longing. It's a mutual agreement between the writer the person being addressed. The theme of protection through love is used in a few of the songs and it is so warm.
Bjork's
Utopia
is idealism, but it is a twisted idealism. Within it the singer lists almost twee qualities such as exchanging MP3s as well as dreamed qualities like hearing someone with the same voice, or seeing someone with the same beard and being
literally five minutes away from love
as in Features Creatures. It is a fairy tale born from the mind of Bjork – the kind of party you'd want to be invited to.
As with every album by Guðmundsdóttir there are going to be certain patches that really catch, or certain samples that really stick and eventually it will grow on a subconscious. However, for this album, it is the overall sentiment and the calming sense that makes listening to this feel like an ethereal fairy tale made for the electronically optimistic.
Utopia
is an album which Bjork has twisted in her journey, but kept the mix that makes an album unmistakably her.