Bill Callahan & Bonnie Prince Billy: Blind Date Party (Drag City)
Indie singer-songwriter royalty stay sane by enlisting labelmates for quirkily eclectic collaboration frenzy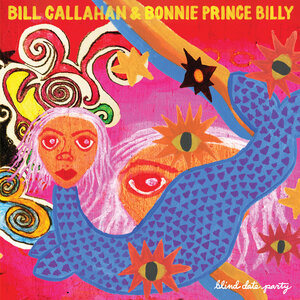 The lockdown album project has become a mini-genre of its own. Over autumn/winter 2020-21, buddies and labelmates
Bill Callahan
(ex-Smog) and Will Oldham, aka
Bonnie Prince Billy
, posted a cover version a week to YouTube, with the help of Drag City labelmates such as Will's fellow Superwolf Matt Sweeney, Ty Segall and High Llamas supremo Sean O'Hagan.
Not all those songs make this album. Nevertheless, as you'd expect, this final 19-track selection is a real mixed bag. While country-tinged troubadouring still anchors much of the album, it sits side by side with wonky electro-pop and rambling jams. Old classics, tunes by up and coming acts, tributes to the recently departed... they're all here. And while darkness rears its head from time to time, most songs seem designed to raise the spirits. And quite right too.
The limitations imposed by online collaboration and the quick turnaround times (a song a week!) mean that the vibe is very much 'first thought best thought'. Arrangements are lo-fi and don't always mesh; and it's sometimes a challenge using two very different voices to maximum effect. However, with so much talent on display, and so many ideas, there are no shortage of magic moments.
Oldham's singing gets better, and more affecting, every year. Callahan's Cash-deep baritone is also a lovely thing, but in a vastly lower register. Oldham seems better suited to traditional 'singer-ly' vocals, while Callahan comes into his own on the more sung-spoken pieces. Both get plenty of time in the limelight here.
Both men are masters of the barely-there ballad and some of the most successful pieces are quiet, almost hymnal: opening Cat Stevens tune The Blackness of the Night; Jerry Jeff Walker's I Love You, now a Tex-Mex serenade; Little Feat's lovelorn lament I've Been the One.
The chaps tackle some revered anthems with a marked freedom. Robert Wyatt's peerless Sea Song is half faithful rendition, half haunted house organ freakout. Steely Dan's Deacon Blues gets a horizontally mellow reimagining. A flamenco take on Leonard Cohen's The Night of Santiago is a lusty highlight, handclaps and all. And the 'two Bills' even revisit their back catalogues - Smog's Our Anniversary is splattered with rocking 70s electric guitar while old Palace tune Arise, Therefore benefits from an electro undercarriage and inspired backing vocals.
There are some real left turns. Billie Eilish's I Wish You Were Gay becomes a electro-funk joy; Ty Segall helps turn Miracles into a much-needed jolt of pandemic-era optimism; and Iggy Pop goes dub to great effect on sunny frolic I Want to Go to the Beach.
Old-school country is also present, with a definite outlaw edge. Hank Williams Jr's hardcore tour confession OD'd in Denver is a spook-filled highlight, while Night Rider's Lament beds down under the stars and takes its leave with a yodelling outro.
Tribute is paid to the Silver Jews' late David Berman and songwriters' songwriter John Prine. The Neil Young and Crazy Horse meets Pavement vibe of The Wild Kindness is a definite highlight, as is the super-sweet Prine closer She Is My Everything.
Not everything lands: a droney, Eastern-tinged take on Lou Reed's Rooftop Garden is somewhat directionless and overlong and a couple of the mellower tunes are less memorable. But this isn't a tight, one-artist statement: it's a baggy and wayward compilation, an eccentrically charming musical capsule. And like so many others over the last 18 months, in aiming towards the light, the musicians gathered here helped make one of the shittier periods in recent memory just a touch more bearable.
4/5
Bill Callahan & Bonnie Prince Billy Links