Beans on Toast - A Spanner in the Works (Xtra Mile Recordings)
Album number eight in as many years and fittingly, still full of beans...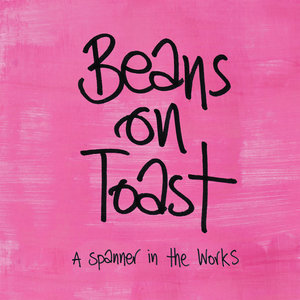 2016 may have sucked, but Jay MacAllister isn't giving up just yet. The true successor to Billy Bragg climbs back up on his soapbox to bring you three chords and the truth... 21st-century style.
For those of us of a liberal persuasion, 2016 has been an absolute shocker. Bowie and Prince dead, bigotry on the rise and Trump with his tiny little hands on the nuclear button... arrrgh! However, in these dark days there are some things you can still rely on: for the eighth year in a row, December 1st sees the debut of a new studio album by
Beans on Toast
. Croaky-voiced singer-songwriter Jay MacCallister celebrates his birthday with a new spin on his spliffed-up post-Billy Bragg shtick. He's still banging on about injustice and trying to spread a little positivity, but this time round he has (mostly) replaced his guitar and harmonica with a laptop.
He may be using modern technology on this record but
A Spanner in the Works
works like old-school topical folk music. These are simple tunes with an emphasis on the words, commenting on the events, disasters and struggles of the day. Beans has his thing and he sticks to it. If you liked his stuff before, you'll like this one and the aesthetic differences are only on the surface. And armed with his new love and his old positivity, he's gonna keep plugging away and not let the bastards win!
Beans' straightforward truth-telling may have been seen as unsophisticated in happier times, but this year it seems vital. There's not that much nuance in songs like 'The Drum Kit' (music venues are closing down, this is a bad thing), but sometimes you've just got to let people know what side you're on. And in old-school opener '2016', a softly spoken talking blues, he may have written the anthem of the year. He mourns the deaths of Lemmy, Howard Marks, DJ Derek and Victoria Wood, in a year of extremes where 'it seems like society's collapsing at the seams...' Skewering the 'self-righteous, self-serving twats who say we want our country back...' he urges us to do our best to fight back.
The rest of the album mixes the personal with the political. Jay's new sound swerves his usual guitar strumalong and mixes mellow, minimal electro-pop with updated oompah-pop, old-school flourishes of trumpet and country-soul piano. Recorded in a couple of days, sometimes it sounds like it, but somehow this just doesn't matter. This stuff is warm, heartfelt, ballsy as hell and acts like a big sonic hug - albeit, at times, an angry one..
The more you listen, the more uplifting it gets. 'Fear Mongering Clap Trap' may fear that global warming has reached the point of no return, but it also features a hopeful monologue from Beans' mum. 'I Can Be That Tree' celebrates the first-year anniversary of his marriage to his missus Lizzie Bee; 'Afternoons in the Sunshine' celebrates 'wearing my rose-tinted glasses over my bleeding heart'; and 'Nanny Mac' is like one of the more sentimental episodes of
Only Fools and Horses
. On the likes of this and 'Down the Pub', Beans celebrates the simple pleasures of community and good times, to the kind of honky-tonk pub piano that is sometimes only a smidgen away from the legendary Chas 'n' Dave!
The sadness in the world is acknowledged - the 'wasn't expecting that' acapella number 'Money For War' recognises that austerity is a political choice, not a necessity, and 'Beautiful Alice' is a low-key lament. But Beans is determined that we should keep our heads up. 'It's Only Natural' is an oddly epic-sounding hymn to the humble weed ('
this one's for the one who invented the biscuit...'
!). Then stretched-out waltz-time closer 'Fast Train' throws us a curveball. Starting off like a regretful and skint farewell to gentrifying London, it ends with our hero realising London is his town - and deciding to stay and fight.
Rough-hewn in places, and occasionally stating the bleeding obvious? Maybe, but this is inspiring stuff from a man with a huge heart and a lot of soul. It will also sound great live - Beans is an inspired live performer. Sophisticated it ain't, but this is stirring stuff.