Baxter Dury: I Thought I Was Better Than You (PIAS Le Label / Heavenly)
Seventh time around Dury creates his own masterpiece, a perfectly realised mix of gleaming nocturnal grooves and next-level wordplay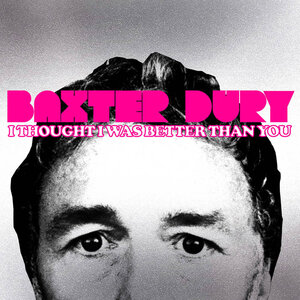 Let's face it, Heaven would be pretty dull.
Baxter Dury
plunges us headfirst into a far more interesting locale: a grubby, very human world of dodgy nightclubs, 3am revelations, bad people in expensive clothes and immaculately rendered cognitive dissonance.
Paul White's R'n'B-referencing production is inspired: low-slung grooves marry Dre-esque drum patterns and squealing synths to beautiful, gospel-inspired piano chords. The likes of
Celebrate Me
would work wonderfully as instrumentals. Sonically, as well as lyrically, it's gorgeously sleazy (as ever with Dury), its narcotic 80s-inspired soundscapes occasionally lightened by intimate acoustic touches (uncharacteristically romantic closer Glows is lovely indeed).
Most tunes see our narrator unspool inspired early morning monologues and arresting images, setting out the mood of a track in unflinching detail while a Greek chorus of soulful, sweet-voiced female vocalists (J Grrrey, Eska and Dury's regular vocal partner Madeline Hart) spell out the message. Crowded Rooms, for instance, sees Dury throwing out genius one-liners ("
West London lounge syndicate... sons and daughters of Dracula taking in riddles
"). Meanwhile, the ladies trill: "
I'm never gonna be like you / This world you occupy in these crowded rooms
".
This review could have been a compendium of quotable one-liners. A few highlights: "
We are the future / Carrying the past like rancid meat
" (Crowded Rooms again); "
Lick my forehead you white-bread-eating cockroach
" (Celebrate Me); "
Kettlewell on the stairwell / potato-faced ancestors
" (So Much Money). And so on...
Dury isn't a singer in the conventional sense but so what? His unashamedly Estuary monologues have character and authority, fitting the grooves perfectly. Some of the songs are like short films, and feel autobiographical.
Leon
's protagonist ends up in school detention after being blamed for his mate's thievery, despite protesting: "
I'm the son of a famous working-class poet...
" Shadow laments that "
No-one will get over that you're someone's son / Even though you want to be Frank Ocean / But you don't sound like him / You sound just like Ian
". Well maybe, but that's a pretty great thing, and this album sees him find the music to go with the musings.
The LP is full of pleasing production touches and great arrangements: the live drums and Bootsy bass of
Aylesbury Boy
, Sincere managing a minute of pitched-up positivity before collapsing into disarray. Come join us in the gutter, the water's lovely.
5/5