Barry Gray - Stand by For Adverts (Trunk)
Barry Gray shows us that Library music is far from a niche genre.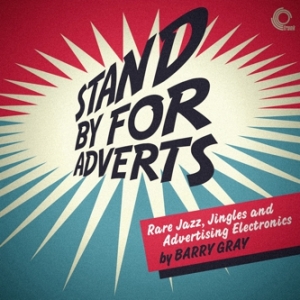 It is perfectly timed that this
Barry Gray
record should make an appearance a few weeks after Jonny Trunk's fabulous Radio Four documentary on library music (still available on iPlayer
here
), where one of the key lessons for those not in tune with the world of library music was thus: that great music comes in all forms, whether written and recorded for a specific audience of fans or if it's a throwaway piece of experimenting that makes it into living rooms as the Grandstand theme.
Barry Gray is one of the more famous library musicians. Famed for his work in writing the Thunderbirds theme as well as way too many other ditties to list here,
Stand by for Adverts
is a collection of tracks that have been saved from the archives. Primarily music from adverts for products ranging from Tango to local convenience stores to Esso, this 81-track opus also includes oddities of sound from documentaries and undetermined sources that may have lived their entire life in Gray's mind and on a mildew-ridden tape reel.
The joys of such a collection are vast. It amounts to a selection of tracks that bare so little resemblance to each other you could feasibly doubt they're the work of the same man. From experimental electronics to a few too many ditties about banana-flavoured cereal – without wanting to sound like an advert -
Stand by for Adverts
is a record that deserves a place in the collection of anyone whose music taste has space for both the avant-garde and the humorous.
As with all Trunk releases, you get a dearth of information on the music you're listening to. In this case, the CD release comes with a vast booklet (required even to hold the tracklisting) that contains a brief history of the products mentioned, as well as words from Jonny Trunk and Ralph Titterton - the saviour of the tracks held within – alongside a bio of the composer himself, who died in 1984 aged 75.
It's all too often that people take music seriously, it's also all too often that people take library music as a joke. No doubt there is a healthy dose of humour in many of the tracks on this collection, but underpinning them all is a sound that many, many songwriters today would give their writing hand to be able to craft. This music is catchy, accessible, whilst at the same time remaining completely experimental and impossible to pigeonhole. There are many library music fans who will tell you that library music is the most interesting, ground-breaking and enjoyable music in existence, and this collection simply underpins that belief.