Baby Dee - Regifted Light (Drag City)
Singer/pianist Baby Dee is a true one-off. A charmingly eccentric gentle giant, male but female-identified, she could only have made it in New York. And while she may move in arty circles, this most unconventional of figures produces some of the loveliest, most accessible music around.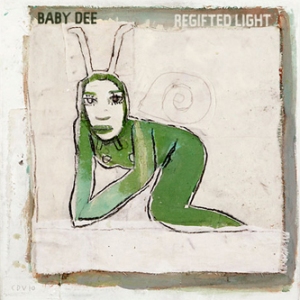 Dee's music is poetic, romantic and humorous, her supple voice is a thing of wonder and she is quite capable of throwing the listener a curveball. Just when you think: "aha, it's all very touching and tremulous", The Pie Song demands "I want that pie / Give that pie to me… Or I will be so sad" to dramatic Hollywood fight scene music!
This album came about when NY scenester and former NME hype victim Andrew WK (ask yer dad) moved apartments and had no room for his beloved Steinway D concert piano. His friend Dee had loved playing on it, so Andrew sent it to Dee's house in Cleveland, where the album was recorded.
Dee and a chamber music ensemble (bassoon, tuba, cello, pump organ and percussion) recorded this sort but sweet set, consisting of eight instrumentals and four songs. Musicals, film music, torch song, late Romantic classical music and the lieder tradition (short poems set to music) are all influences.
As producer, Andrew WK has crafted spacious arrangements: opening instrumental 'Cowboys With Cowboy Hat Hair' combines a martial drumbeat with rippling piano, while 'Yapapipi' is reminiscent of Joni Mitchell's '74 classic 'Court and Spark'. But as lovely and filmic as the wordless pieces are, it's the songs that really make this collection stand out.
Regifted Light
suggests an alternative pagan cosmology, where goodness and generosity multiply themselves, and humans can save themselves without any need for Jesus on the cross: 'The moon is my redeemer / the moon is my befriending Jesus… His blessing multiplies / As I regift it / to your eyes…" Dee's life has obviously been no picnic, so the fact that she seems to have achieved this incredibly generous, loving, light-hearted outlook is impressive in the extreme.
The beatific 'Brother Slug and Sister Snail' pays tribute to a lowly couple who are "happy in the slime". While "the good look down / full of concern", they're doing fine. And 'On the Day I Died' continues the theme of forgiveness: despite her subversive take on religious themes, Dee is deeply Christian on this album - full of love and forgiveness.
This album has a fascinating backstory, and is performed by one of the most intriguing characters in music today. But, ignoring all that, it's just a lovely and highly accessible piece of work. Dee-lightful, in fact.