Ariel Sharratt & Mathias Kom: Never Work (BB Island)
Canadian folk / garage rock outfit unleash excellent, socio-political themed set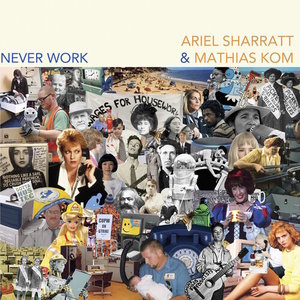 Ever get the feeling you've been cheated? That no matter how hard you work, you're not getting anywhere…and there are a million better things you could be doing?
Ariel Sharratt and Mathias Kom
know how you're feeling. On their second album as a duo, the hyper-literate Canadian garage-folkers tackle the 'wonderful' world of work with righteous rants, surreal parables and modern morality tales. It's released, appropriately enough on May 1, aka Labour Day.
With 2016's all-time anthem F*ck the government, I love you Ariel and Mathias proved they are a killer combo. And while this album doesn't feature anything quite as stellar, this is an extremely engaging set of songs from two people who you just know would be a
lot
of fun at parties. The largely acoustic music is simple but effective, with fingerpicked guitar, strong melodies and vocal hooks and two-part harmonies aided by the occasional electronic whirr or instrumental colouring. Shades of old-school folk classicism rub shoulders with more recent indie influences.
Opener Never Work sets out the album's basic ideological position ('
Never suffer / never tip your hat to another
'). The hushed prettiness of Monitors evokes Belle and Sebastian as it registers a quiet protest against office life. Everything for Everyone sees underemployed postgraduates welcoming the breakdown of society as a chance to siphon petrol, lark around and meet their '
interesting neighbours… before the Earth is swallowed by the Sun
'. Every few second the listener is treated to another lyrical zinger.
Rise Up Alexa is a highpoint, a 'duet' with the eponymous digital personal assistant with a Gypsy folk feel, as our heroes attempt to get her to throw off her shackles and revolt. It's the first of two songs skewering retail behemoth Amazon, the second being Two Jeffs. The hardest-hitting song on the album, with vocal echoes of Yo La Tengo, it contrasts the fortunes of the world's richest man with his namesake Jeff Lockhart, who collapsed and died working in one of his warehouses.
Elsewhere, The Rich Stuff discourses on the cost of living and the natural decency of everyday people; The Robots vs Ms Patel is futuristic whimsy a la
Yoshimi
-era Flaming Lips; and the equally playful Talkin' Gig Economy Blues deconstructs itself as it goes along, Kom mashing together early Bob Dylan with Jeffrey Lewis to update the style for a tale of life on the modern breadline ('
At least you get to choose your own hours / Oh, wait, I said that already didn't I?
')
This is not an album that advocates storming the barricades. Violence is not the answer, and neither is 'winning' at any cost. The overall message can be summed up in the album's only cover, Malvina Reynolds' rather wonderful Don't Mind Failing: '
I don't mind wearing the ragged britches / 'cos those that succeed are the sons of bitches…
' Providing you can keep a roof over your head and food in your belly, the only authority you should listen to is your conscience, it argues.
8/10
Ariel Sharratt & Mathias Kom Links