Arcane Roots - Blood & Chemistry (Play It Again Sam)
Math rock/indie/prog pop trio Arcane Roots mix it up once again for their latest album Blood & Chemistry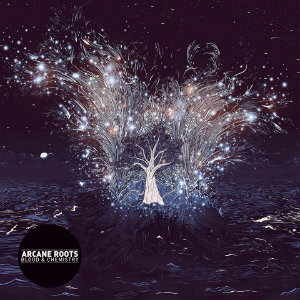 What kind of band are
Arcane Roots
? They just don't seem to fit into one neat little box. This is perhaps why they have had such success touring with bands as diverse as power-pop punkers
Twin Atlantic
and folk rock band
Dry The River
. They aren't particularly genre specific but, happily, this doesn't equate to a watered down debut full-length album.
Hailing from Kingston-Upon-Thames, home to infamous punk and indie record shop Banquet Records and a solid music scene of heavyweight twiddly math pop bands (
Tubelord
,
Tangled Hair
,
Colour
, etc.), Arcane Roots have clearly adopted a similar angular mathy approach. However, there is a grandeur here that belongs in the early
Biffy Clyro
corner of experimental rock pop, which helps to separate Arcane Roots from the plethora of relatively unknown, technically-complex-but-lacking-catchy-songs math bands out there.
In its heavier moments, the opening track of forthcoming album
Blood and Chemistry
, 'Energy is Never Lost Just Redirected', smacks of the more recent
And So I Watch You From Afar
sound. Still, there are hints of that Biffy magic: a complete fusion of unpredictability and balls-out pop. 'Resolve' follows on tidily, where a soaring and distinct-yet-comfortingly-familiar vocal contrasts with hardcore-influenced riffs (think recent
Bring Me The Horizon
meets
My Vitriol
).
'Belief' is a slow burner, with an epic pop chorus slung on top of a meaty chunk of distorted guitars and crashing drums. It's a power ballad all right, but of a brand new breed. An outro with a beat down and a jabbing guitar riff ensures there is more than enough 'rawk' here to balance out (and toughen up) the indie pop sentiment. 'Sacred Shapes', a syncopated, skewed, time-signatured, ball buster (a pinch harmonic, no?) boasts a pop vocal that Justin Timberlake would be proud of (and we mean that in a good way). The track is the epitome of genre defying and a lesson in successfully fusing styles of popular music. It has a short-but-sweet acoustic ballad attached to the end, a pretty and pleasant surprise, bridging the song seamlessly to following track 'Hell & High Water'.
Debut single from the album, 'Slow', satisfyingly evolves from a riff-laden rock hit to a grand and beautiful soundscape awash with harmonies, moments of
Mars Volta
-esque chord progressions and remarkably dynamic vocals. This is not your average three-minute pop hit. The production across the album is also notable, with skilfully edited and layered guitars. 'Second Breath' also refuses to let up for a second – it relentlessly screams in your face while holding you tight by the collar, never losing grip and never losing power. A testosterone-fuelled, hardcore middle eight hook leading into a pretty and dialled-down picked guitar and gentle melody builds anticipation for a colossal and majestic outro that employs the perfect balance of cascading vocal melody and powerful screams. 'Second Breath' is possibly Blood & Chemistry's finest moment.
Closing track 'You Keep Me Here' is straight-up bittersweet indie rock, with stabbing guitars and an anthemic chorus. The song melts into a beautiful four-minute string-infused outro before breaking into a hook repetition that well and truly drives the whole album home.
Blood and Chemistry is a perfect example of a band that has managed to achieve the balance of a complete sound that is fairly simple to pinpoint with the ability to fuse styles and create something magnificent. A difficult talent to hone, but Arcane Roots make it look – and sound - effortless. With unapologetic stadium rock-sized moments of glory, as well as complex math pop riffs, this truly is a rock album for the pop kids.