Angus Stone - Broken Brights
Recorded across the globe from the Swiss Alps, to the Australian coastline, to the Indian countryside, Broken Brights is Angus Stone's first solo outing since 2009's Smoking Gun under his Lady of the Sunshine moniker. He has said it's his most personal work to date and the album drips with musical influences ranging from 70s rock to spaghetti western soundtracks.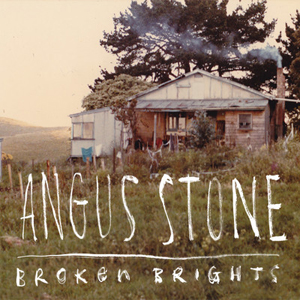 The album opens with the strumming of mandolin with a melancholic violin accompaniment before crescendoing into a veritable country style hoe down. This sets the tone for the album to come, not in terms of the many styles covered, but in the way Angus has set about creating beautifully crafted and deceptively simple sounding songs to form a great album.
Despite the different genres each track gels with the next. The title track, coming second on the playlist, is more familiar Angus Stone territory. A simple three chord progression with whispered vocals and repetitive lyrics. However the whole is much greater than the sum of its parts and the track doesn't sound out of place between the opening number and the electric guitar driven third.
'The Blue Door' is a highlight and somewhat of a departure from what one might expect from Angus Stone. With a country and western style, story based lyrics and crisp harmonies; this track comes complete with an American-Indian Pan Flute solo and is a surprising and delightful addition to the album.
'Monsters' is another standout with sweet lyrics: "In the dark, there's monsters that cry alone. They're waiting, for you to come along and play". Supported by a female vocal harmony, twin panned banjos and brass accompaniment. The arrangement is quite busy whilst retaining a clean, simple feel, an example of Angus' growing songwriting prowess. Band members making monster sounds in the background is a nice addition too.
There are elements of psych-rock, acoustic ballads and country but what Angus Stone has created with
Broken Brights
is thirteen slices of beautiful music, all with strong individual character but working together to form one cohesive work. A fine effort indeed.