…And You Will Know Us By The Trail Of Dead – IX (Superball Music)
Electrifying ninth LP from the storied Texan art-rockers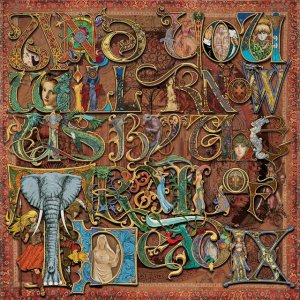 Emerging from the Lone Star State in 1998 amidst an avalanche of US bands, art-rock crew
…And You Will Know Us By the Trail of Dead
have proved remarkably resilient. With many of their contemporaries broken down by the side of the road, as the title makes clear, nine albums in the nucleus of Jason Reece and Conrad Keeley have soldiered on, issuing a new LP roughly every two years.
While some have griped that the group have been subject to the law of diminishing returns since 2002s lauded
Source Tags and Codes
(which the band played in full in London earlier this year),
IX
sounds like a band re-energised.
Their tracks essentially hinging on the interplay between churning guitars and thunderous tribal drumming the Texans have always been smarter than to merely stick to what British music journos in the 1970s used to term Heads Down No Nonsense Mindless Boogie. Dalliances with math rock, prog and excursions into chamber-pop appear throughout IX, with the second half of the LP moving yet further away from the band's noise rock origins.
Despite a slight whiff of filler about a couple of the album's early moments, skyscraping opening salvo 'The Doomsday Book' is the strongest case the band have made for mainstream acceptability in some time. 'Lie Without A Liar' more than matches it, packing a formidable punch through a ringing arpeggio and electronic undertow without succumbing to the loudness war and endlessly piling guitars on top of one another.
Progressing on an upward curve, the acoustic led 'The Ghost Within' and the superlative string and glockenspiel assisted 'The Dragonfly Queen' nudges the band towards the pomp-pop territory
Mellon Collie…
era Smashing Pumpkins successfully staked out. Instrumental pieces 'How to Avoid Huge Ships' led by see-sawing cello and thunderous drums creates visions of storm-tossed seas while 'Like Summer Tempest Came His Tears', title and all is the nearer the band come to all-out progressive rock.
'Bus Lines', underpinned by a perpetual rumble of mixed-low guitars showcases the quartet's ability to nimbly work their way through sidewinding tempo shifts, while following cut the epic 'Lost in the Scheme' opens with the kind of taut alt. rock Foo Fighters wish they could sound like before tumbling into a succession of Sonic Youth-esque metronomic guitar arpeggios.
The most ambitious track is saved for last as 'Sound of the Silk' juxtaposes a twisting folk-inflected guitar melody with tribal drums before giving way to way to fiddle-led Irish folk music and on to a spoken word piece leading back into the main theme.
An impressive exercise in relocating their muse, for anyone who the band provokes memories of the early Noughties, long standing adherents or newcomers alike
IX
is a near perfect (re)introduction.