Anais Mitchell – Hadestown (Righteous Babe)
The story of Orpheus in twenty beautifully intoxicating tracks.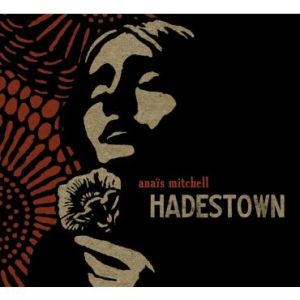 There are few things in the music world as derided as the concept album, which has long been a source of mirth, especially in sub-Spinal Tap rock parodies. It's unlikely to change the minds of anyone already firmly in the 'anti' camp, but songstress Anais Mitchell's latest album is a sprawling folk opera drawing on Greek mythology, and brimming with ideas.
Ambitious and fantastically accomplished, it follows the myth of Orpheus and his attempt to rescue wife Eurydice from the underworld. There's an impressive list of musicians taking on the voices of the story's myriad characters, including Justin Vernon of Bon Iver, Ben Knox Miller of the Low Anthem, and Ani DiFranco, not to mention those contributing to the album's rich and varied instrumentation.
Penned by Mitchell, these songs transcend folk music, not least the blues-inspired 'Way Down Hadestown', the swinging jazz of 'When the Chips Are Down' or the smoky bar-room blitz of the DiFranco-fronted 'Our Lady of the Underground', in her guise as the voice of Persephone.
Mitchell herself is at the centre of the tale, as Eurydice, and her sweetly cooing vocals are among the stand-out ingredients here, though she's happy to take a back seat on several of the songs, which are instead dominated by the male voices. In truth Hadestown plays more like a series of song cycles, with the music and narrative servicing each other.
Across twenty tracks in little under an hour, Mitchell and co create a lush and intricately textured record which encapsulates the myth but also functions as an album on its own. Beautifully intoxicating when enjoyed in its entirety, there are pivotal moments such as the call and response 'Why We Build the Wall', between Greg Brown as Hades and the rest of the 'cast', with proceedings underscored by plaintive guitar and strings.
Hadestown alternates between stark sounds and gloriously expansive arrangements – baroque without sounding ostentatious, it's a deeply affecting record and one which confirms Mitchell as a wonderfully talented songwriter. There's an unbridled sense of adventure audible throughout and – paradoxically, considering the nature of the myth – it sounds like it was as fun to make as it is to listen to. An astonishing work.