Amatorski – From Clay To Figures (Crammed Discs)
A carefully crafted and moving album from the Belgian art-indie band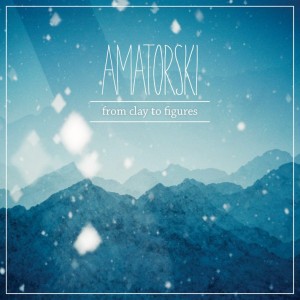 Amatorski
the Belgian band well-known for their cutesy voices, simple ballads and sweet acoustics, have changed tack with this album. It's very much walking into the territory of Icelandic experimental popsters Mum, and looking frostily outward upon the world rather than gazing backward and inward as they have done before.
Previously they have made cinematic sort of music – a recent bit of soundtrack work resulted in Deleting Borders, which explored crossovers between music, the internet and video art – that captures significant moments in the lives of people. The vocals of Inne Eysermans on previous works have always grasped the most introspective of emotions. And the sounds that Eysermans and Sebastiaan van der Branden created made the songs delve even deeper within until what remained were very tidy songs, focussed on a niche part of life.
But this latest Amatorski effort,
From Clay to Figures
, flips that inside out. It sees Amatorski looking and reaching outwards for their slices of human emotion. As their press release states, this is "Less secretive, more open and more hopeful than their debut."
There are a lot of emotionally charged electric guitar leads on this album, with feedback. This is a significant shift for Amatorski, who initially introduced themselves to music with little deviation from acoustic guitars and piano and violin.
On songs such as 'Warszawa,' Amatorski show their ability to really connect with base emotions. Additional layers are added over its six minutes to a chugging and typewriter-rapping finish. The instrumentation of baby grand piano, moaning guitar and voice pushes the sounds gently along. This reflective slow build appears again on 'She Became a Ballerina.' It's the chilled intimacy of these songs that feel fresh from Eysermans's trip to New York and Hamburg for inspiration and seclusion when setting out the initial plans for this album.
Amatorski have always been capable of producing music best suited to a quiet moment and to fully appreciate this carefully crafted and delicately moving album, it's best to find that space to listen to it.
A more outward looking song, and closer to where Amatorski appear to be headed with this album, is 'How Are You?' Its style, beeps, cymbal crashes and drifting synths in the background, make it a fully layered song from the off – worth a bash to see where they're headed if you've only managed to get your ears wrapped around the lovely
Same Stars We Shared
EP.
From Clay To Figures
is the next step in Amatorski's version of song writing. It is a carefully crafted and moving album from the Belgian art-indie band. As a very quiet and delicately put together album there are few songs that instantly grab you by the jugular, so it takes a few listens to really get into the layers. Where the album loses a little of the intimate notes and snapshots of life that first brought them to fans of lo-fi and art-folk, its change of perspective has progressed to a wide open sound that is reaching out further than Amatorski have ever done before.