Alessi's Ark - Time Travel (Bella Union)
Second record sees Alessi's Ark evolve and grow, all for the better.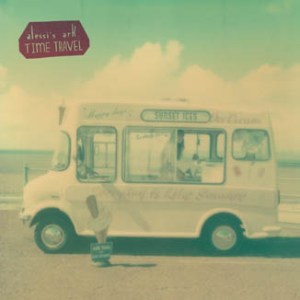 Back with her second album, released through Bella Union, Alessi Laurent-Mark's mellow meandering and ponderous efforts have been trebled. This is a befitting label for the new release and the mild soul that peeks out through the fabric of each track, the record as a whole marking a fracturing of the old innocence, and tingeing the outcome with a meld of vintage sensibilities and the nubile experiences of young women.
'Must've Grown' arcs out this theme, flipping between imaginings of being "back in the womb" and reaching the realization you weren't who you once were. Shimmering chords fight for space to expand in a sense that taps into the fragmented sense of being. Its lightness, a treatment taken care to achieve throughout most of the album, serves only to mellow out the darkest sentiments and subject matter. It is mysticism in all its myriad performance, backed up in 'Time Travel' with eerie whistles and sturdy reedy acoustics nestling Alessi's calm and cultured vocals.
It is this sense of pure control garnered in her voice, a command that breaks with any turbulence threatening to throw any moment off kilter. In the slyly heart-breaking opener 'Kind Of Man' or 'Maybe I Know', tales of the man who could break your heart again and again glide through her subtle tones, with the slowly spinning riff offering a heavy lament.
Picking up the pace ever so slightly, falling into single 'Wire' and sprawling out into 'On The Plain', the maturity of outlook becomes clearer and subtly inspiring. That initial innocence within the spaces of
Notes From The Treehouse
still remains, though with a more thoughtful delivery in technically beautiful arrangements that smack of the heyday of Country Rock, Fleetwood Mac and the Lynyrd Skynyrd lending a nostalgic touch and perhaps some early Americana. 'Blanket' drips with that adorable intonation that Alessi's Ark fans love, as well as administering a healthy dose of reedy string and calm choral lifts.
'Stalemate' seems to crawl back towards
Notes From The Treehouse
, acting as a pure lament, forcing a recall to the 2009 track 'Hummingbird', and that divide between yearning and the flourishes of despair. 'Ruin' takes a far more optimistic approach, projecting out to what is yet to come, softly lilting as it does so with the pure acoustics, feeding into the finale in strains of 'The Bird Song', a sturdy rhythm tapped out on the wood between stringed strums.
Within this artistic creation, Alessi has done away with spoken word parenthesis formerly cluttering silences within the first LP, and created a mature record that eloquently captures youth, nostalgia and large helpings of beauty laced with hints of human tragedy. It is lightweight in the way that these events unfold, and yet it is thee intonation and buoyancy within the vocals that keep this an Alessi special. Healthy doses of influence from great artists of the last fifty years have lent a depth to the outcome, though this is not to detract in any way from the hard work that has gone in to the arrangement and production. It is clear even from the disparity between the titles of both records that there has been a shift in the way Alessi and her collective see themselves, and we cant wait to see how they grow and change again.